Whether you love it or hate it, you certainly cannot deny the impact that Cybertruck has made. Tesla has taken another big step in the automotive world with its futuristic pickup, which is loved by many people across the globe. Besides being a leader in the automotive industry, the California company has become an iconic global tech brand.
Even months after its debut, Tesla's polygonal all-electric pickup is still making ripples in the design world and also inspiring more designers to come up with new creations influenced by Elon Musk's polarizing four-wheeler. Some of these Cybertruck-inspired designs range from sleek objects to some outrageous units.
Here are some impressive designs that have taken a cue from the startling Cybertruck:
#1 LandTraveler Camper
Ivan Zheltonogov, a DIYer/designer from Russia, has created an eye-catching futuristic camper trailer called the LandTraveler Cybertruck. This is a truck-style camper trailer, which is intended to be tagged along with Tesla's EV. From its appearance, you can expect it to add more charm to the Cybertruck. After all, it provides the comfort of your home even when you're on the road for an adventure.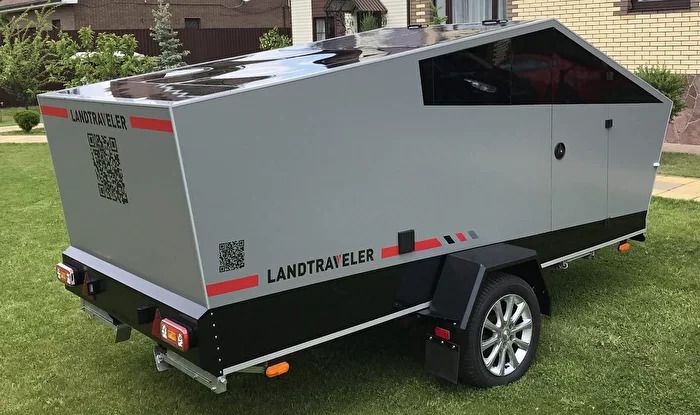 If you don't want this camper behind Cybertruck, you can even consider towing it behind Model Y, Model X, or any other vehicle and still maintain its futuristic look. Besides its cutting-edge look, it even scores great on the aspect of a camping trailer. It comes well-integrated with all possible amenities for spending a night comfortably in the outdoors.
This camping trailer's exterior is made up of composite aluminum, which gives it a futuristic look. On the other hand, the interior includes a kitchenette, a bathroom, a lot of skylights, and dining-cum-sleeping area. All thanks to the skylights, there is ample daylight flooding into the camper. And at night, you can enjoy the amazing view of the night sky through its skylight.
The camper even has some off-grid capabilities, as it is integrated with a 100-liter water tank, rooftop solar panels, and a heater for keeping you warm whenever you are away from your home. Overall, it is a great camper to fill you all your adventure needs without making you leave the comfort of your cozy home.
Similar post: CyberLandr : A Disappearing Camper Van for Your Tesla Cybertruck
#2 Cyberhouse bunker
Another stunning Tesla's Cybertruck-inspired design is the Cyberhouse bunker by the Russian studio Modern House Architecture & Design. This Cyberhouse has been designed specifically to survive any apocalypse kind of event.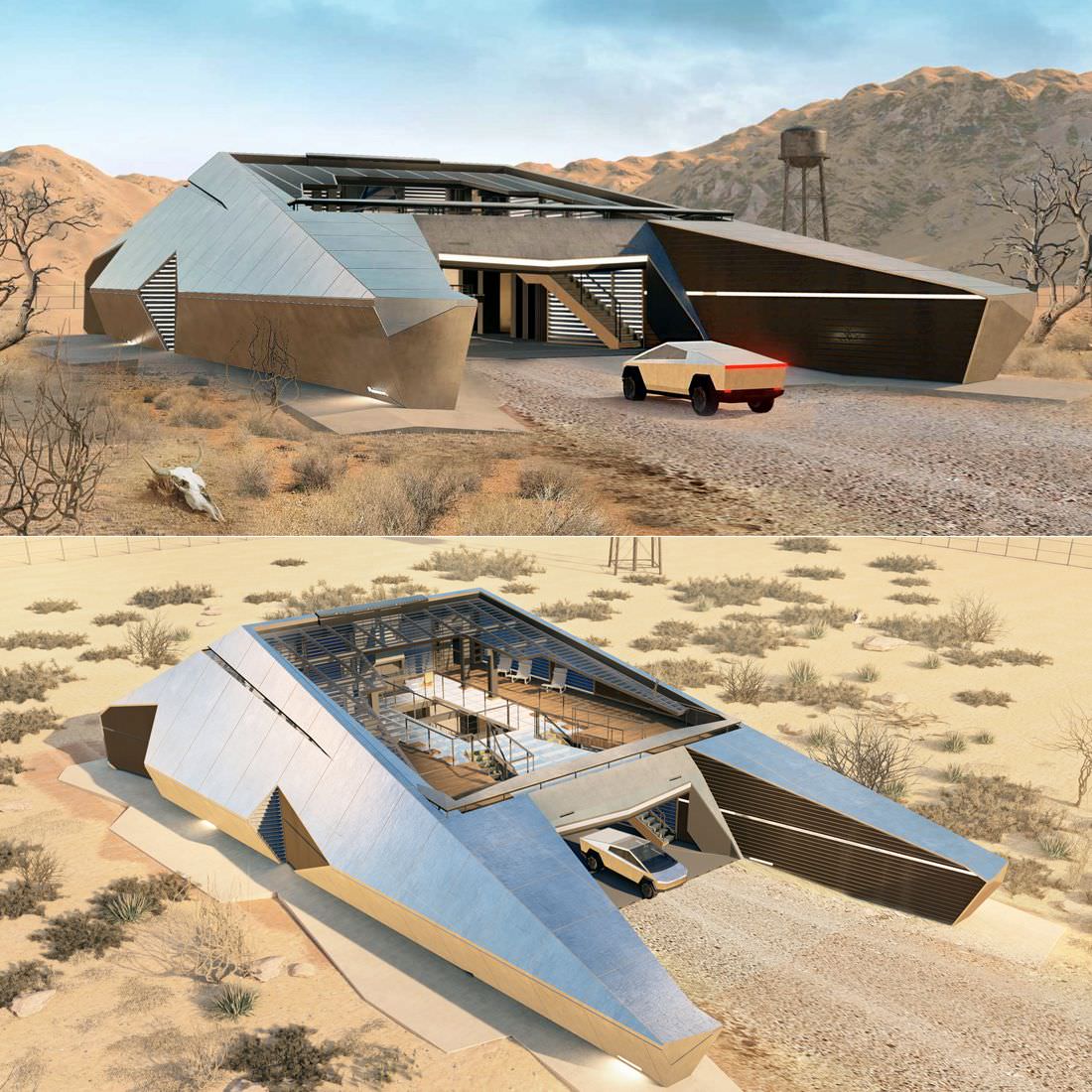 This house is intended to be a fortress for those who survive the zombie apocalypse, according to Alex Wizhevsky, the chief architect at Modern House Architecture & Design. The architectural concept of this particular house is suitable for all Cybertruck owners.
Its angular and sleek exterior is protected from nuclear attack or zombies by its airlock doors, drawbridge fence, and armored windows. It even includes a subterranean level with proper elevator access for car parking.
If the standard 1,800-square-foot Cybunker is not massive enough for securing your future, Modern Houses offers another solution. They even dream of making a 3,230-square-foot of Cyberhouse that has a more spacious living area along with a comprehensive security system.
#3 Cyberphone Phone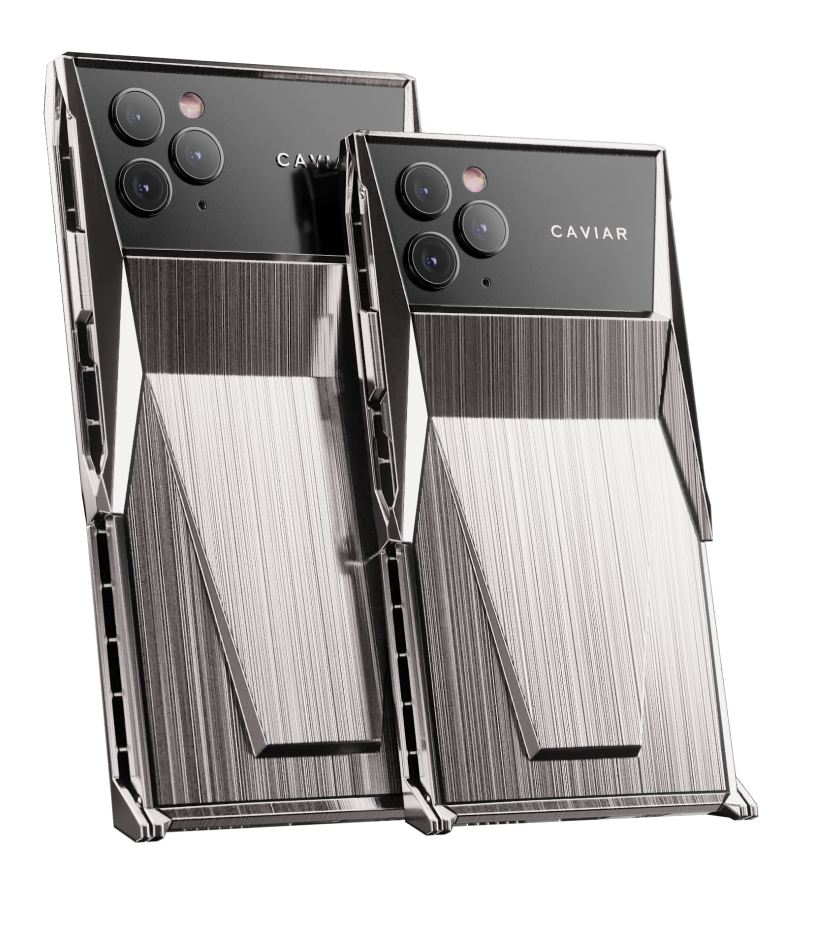 It's not just the Tesla Cybertruck fans that have come up with their own versions of it, but the luxury goods manufacturer Caviar has also created an iPhone in the shape of Elon Musk's futuristic electric vehicle.
Dubbed Cyberphone, the new iPhone 11 Pro and iPhone 11 Pro Max by Caviar are designed to mimic the advanced Cybertruck. These phones will be running on 14.3 iOS and their titanium body comes protected from all angles to bear the outer mechanical impact. After all, its back cover, screen, and sides are hidden carefully by the metal plates.
According to the Caviar website, their modified described Cyberphones are perfectly able to trace simplicity of forms, the geometry of lines, and versatility of materials. However, it comes with a hefty price tag. So, be ready to spend an excessive amount of money on your Cyberphone.
Similar post: Tesla Model S Plaid – World's Fastest Car With Rectangular Steering
#4 Cyberboard Keyboard
Angry Miao claims that their Cyberboard keyboard is the world's first-ever mechanical keyboard with custom LED. Styled as Cyberboard, the keyboard is influenced by the designs of Tesla Cybertruck and Cyberpunk.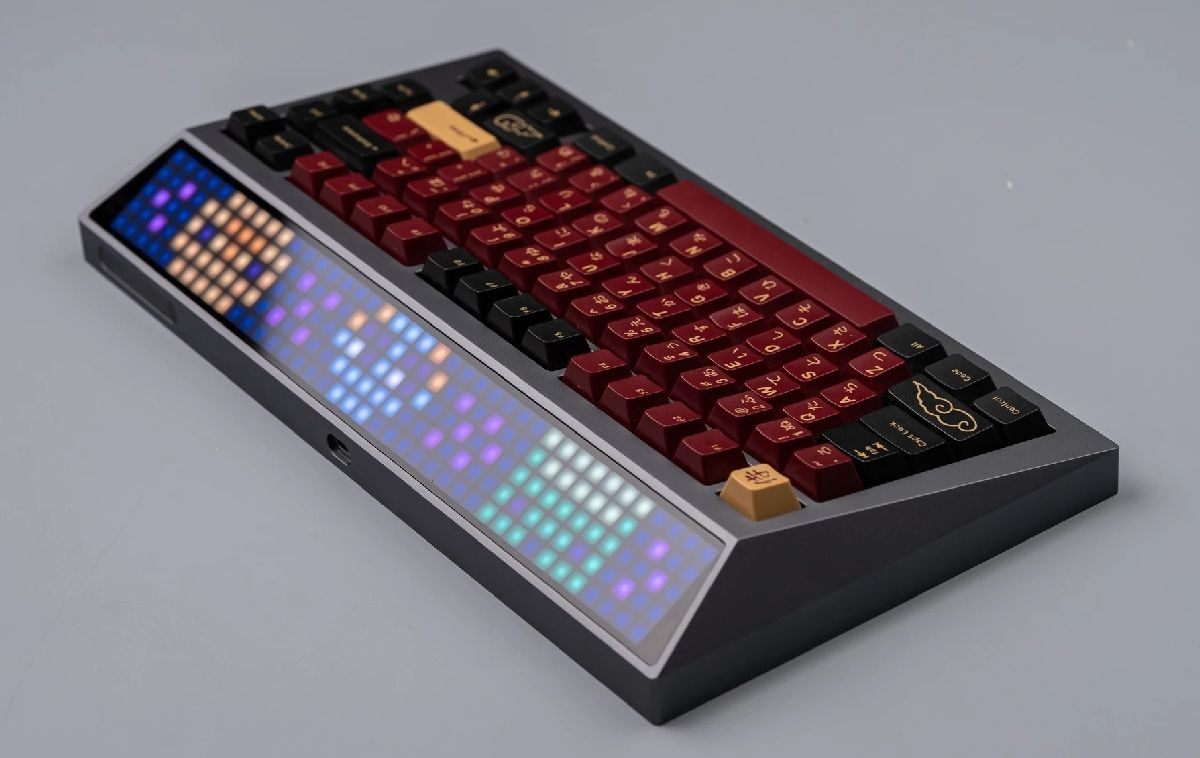 The keyboard boasts a CNC-machined 6063 aluminum alloy frames. And, it is available for pre-order from Indiegogo in five colors. One of the exclusive elements of this Cyberboard is the large display, with around 200 LEDs. Angry Miao has organized these in five states and rows. However, the states are easily configurable through a web interface. But the keycaps or switches won't be available to you with the purchase.
Furthermore, the keyboard supports USB connectivity and Bluetooth 5.0. As per the company, these new colors are called Jungle Green, Cyber Grey, Vapor White, Industrial Yellow, and Purple Haze. Plus, only 1000 units of this unique phone will be available for pre-order.
#5 Cybertime Watch
Anicorn's LAB sector has unveiled their limited edition CyberTime watch, which is billed as Anicorn's first conceptual digital timepiece. As you can see, it is also inspired by Cybertruck and its memes. Its meme-influenced aspect is quite apparent with the illustration of cracked glass, giving a nod to the futuristic four-wheeler.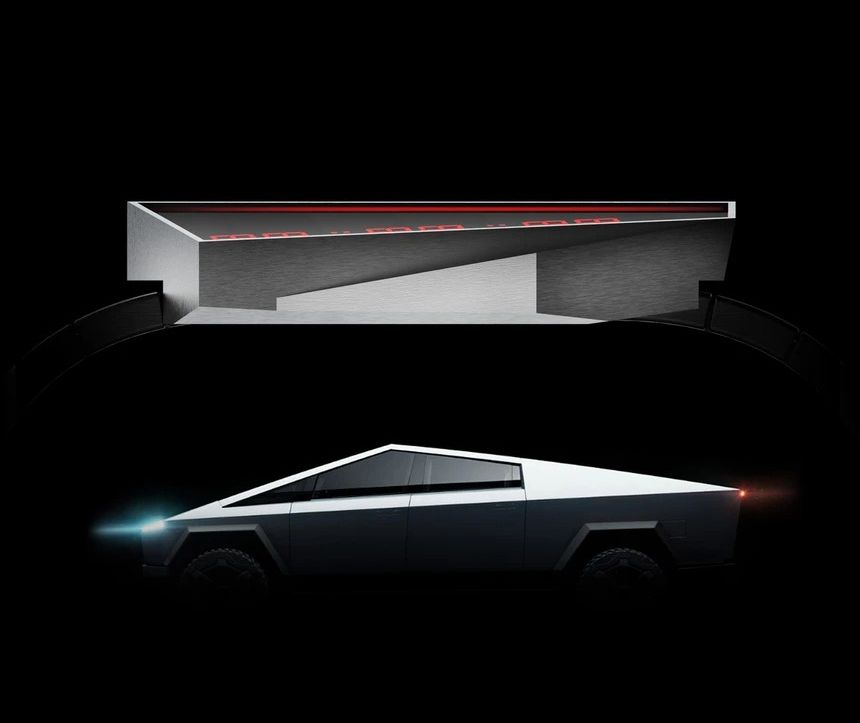 Even the normal edition of this timepiece without the cracked glass nod is available. This watch even has a stainless steel case with a polygonal shape along with the metal finished appearance of the Cybertruck.
You can activate its display with a single tap of the finger to see time and date from top to bottom. Some other features of the watch are its 3ATM water resistance, battery with one-year life, and 20mm black stainless steel bracelet.
However, the company aims to start making more watches if the 50 pre-orders are bagged. Both watch designs are priced at $250 for the pre-order, and after that, they will cost $280.
Similar post: Loki Basecamp Reveals New Spacious Camper for Tesla Cybertruck
#6 CyberNUC PC case
Have a look at this cool CyberNUC computer case by Dutch computer vendor MyElectronics. It is designed to be used with Intel 5 generation up to the latest 10th gen NUC. And, the look is complete with the unusual Cybertruck roofline.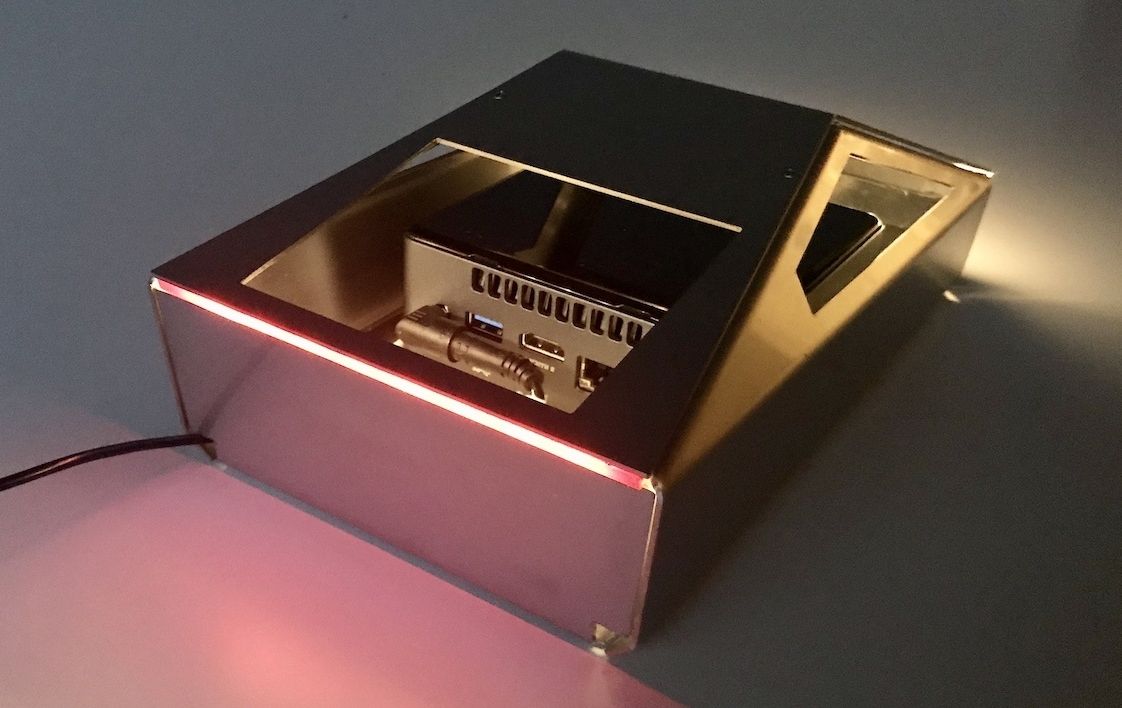 Some other interesting features of this PC case involve all wide stainless steel bars front/rear in a complete 2.2 round package.
The Dutch company also says that the case comes with a "rugged strength". Available for $US 134, the PC case would be an interesting addition to your gamepad or bachelor's pad. But it's certainly not bulletproof like the Cybertruck, nor you can use it for commuting.