Tesla Cybertruck has not made it into production so far. But many people have started seeing it as a perfect platform for outdoor adventure. To take the adventure to another level, a Las Vegas-based company has come up with a pop-up Cybertruck camper conversion called Cyberlandr. It will be an ideal addition to its EV host with all 21st-century modern design details and lux amenities.
Tesla Cyberlandr Cybertruck camper design
Utilizing a pop-up concept, the Cyberlandr is designed to turn Cybertruck into a futuristic home for four. This unit conforms to the truck's shape when it's collapsed. But when expanded upward, it turns four times its height and goes all the way to the truck's open tailgate. The extended version has two small rooms (for 2 adults and 2 children), along with a sleeping space, living area, dining area, and a tiny bathroom.
The living area boasts a kitchen with a sink, under-counter fridge, and induction cooktop integrated with a countertop. The countertop also has a touchless faucet that can be activated via voice command. Plus, an invisible induction cooktop is included underneath the electrically heated porcelain-tile counter.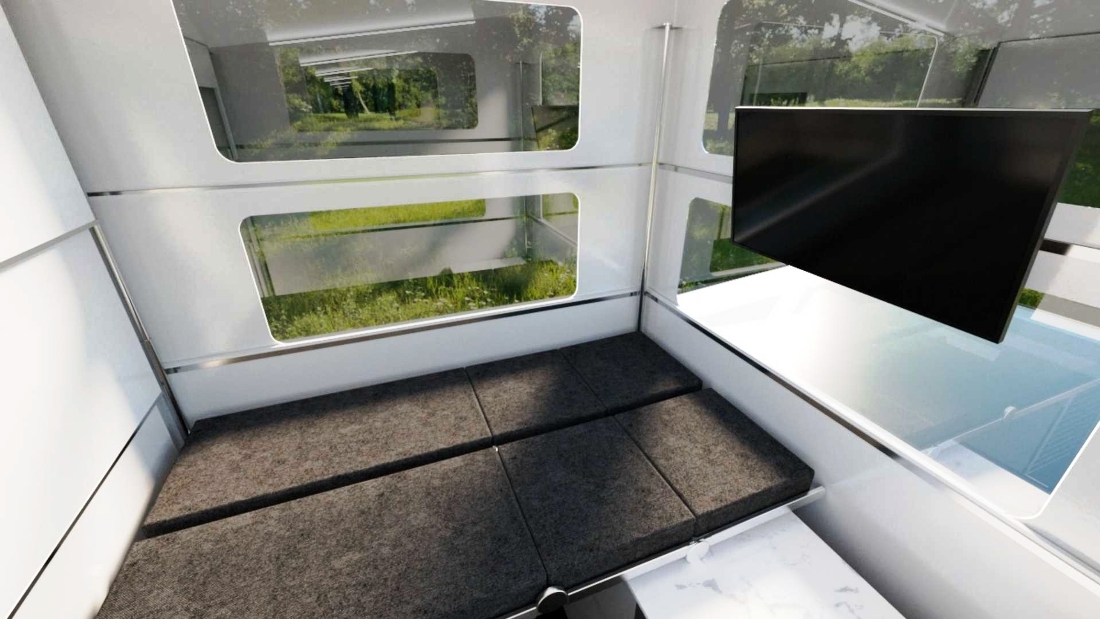 Furthermore, the two reconfigurable lounging chairs offer a perfect seating space. These chairs can also be laid flat and installed over the countertop to form a double bed. These can even be taken outside to set up outdoor seating.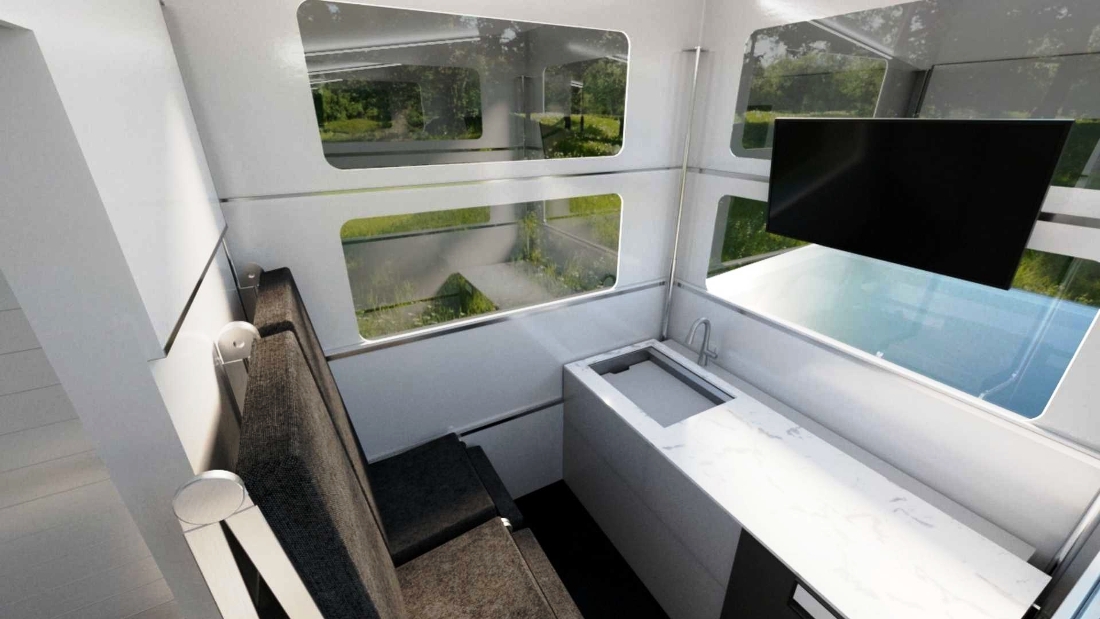 There's a 32-inch flatscreen TV that doubles as a monitor to ensure that you can get some work done even on a vacation outdoors. For security, there is a built-in 360-degree surveillance system. All these things surely need connectivity and power. So, there is a StarLink satellite for wireless connectivity and the 500-watt solar roof panels ensure that the pop-up home always stays juiced up.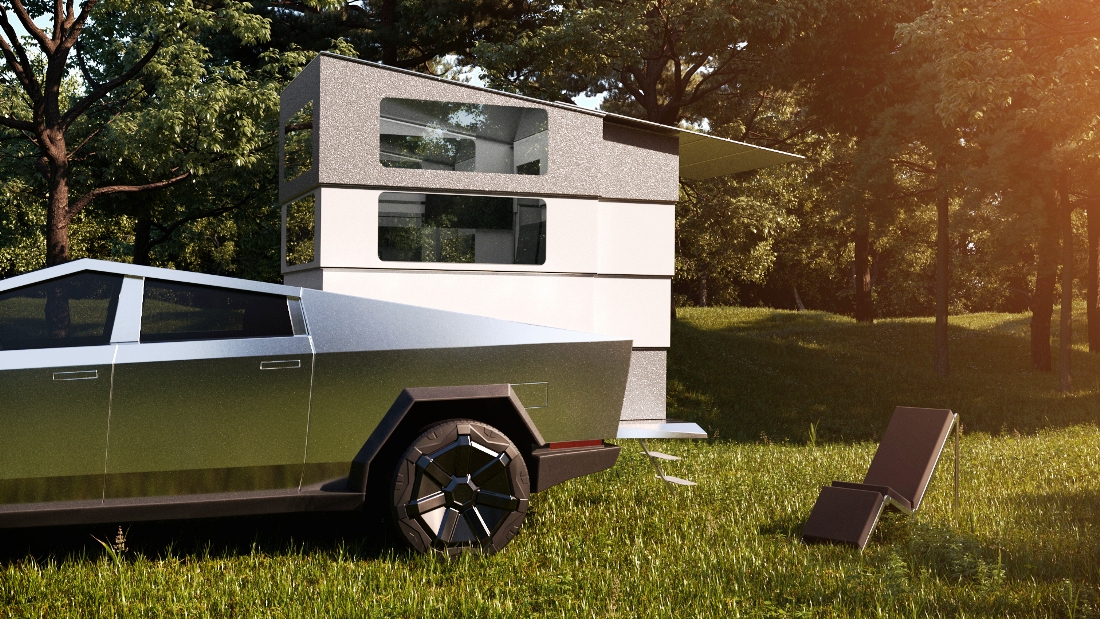 There is a phone-booth-sized bathroom with next-level technology, including a self-cleaning, dry-flush toilet to eliminate the requirement of the black water tank. There's even a four-stage water-filtration system for recirculation of water to the shower.
Tesla Cyberlandr Cybertruck camper features
Kitchen
3 levels sink with colander
wash basin
drying rack
cutting board
Faucet that can be manually/with touch/voice controlled
Invisible induction cooktop
Luxurious living room
Smart living room (control lighting and climate variables with voice/app commands)
32 inches 4K UHD Smart TV with integrated apps like Netflix, Amazon Prime, Apple TV, YouTube, etc.
Reclining/freestanding portable chairs
Surround sound system
Bedroom
Seats that transforms into comfortable, breathable queen bed
Electrochromic smart glass duel pan windows
Alarm system with 360 degrees surveillance cameras and exterior lighting equipped with motion sensors for added security.
Spa-spirited Bathroom
Radiant-heated single piece porcelain tile floor
Recirculating shower with 4-stage filter
5 flow patterns Spa-styled shower head
Dry-flush toilet with self-cleaning bowl
Corner Office
Starlink's connectivity (requires subscription) that offer high speed internet with low latency rate.
Watch streaming video through Apple AirPlay on 32 inches TV (also acts as computer monitor)
Related: BeTRITON's Z-Triton 2.0 : Camper + Trike + Boat (All in One)
Tesla Cyberlandr Cybertruck camper price
According to Cyblerlandr makers, all these features and specifications are likely to change. This is because Tesla has not yet revealed their exact dimensions for the Cybertruck. However, Cyberlandr is taking reservations along with deposits now. You can put down $5,000 of deposit to get 20% net savings on the Cyberlander.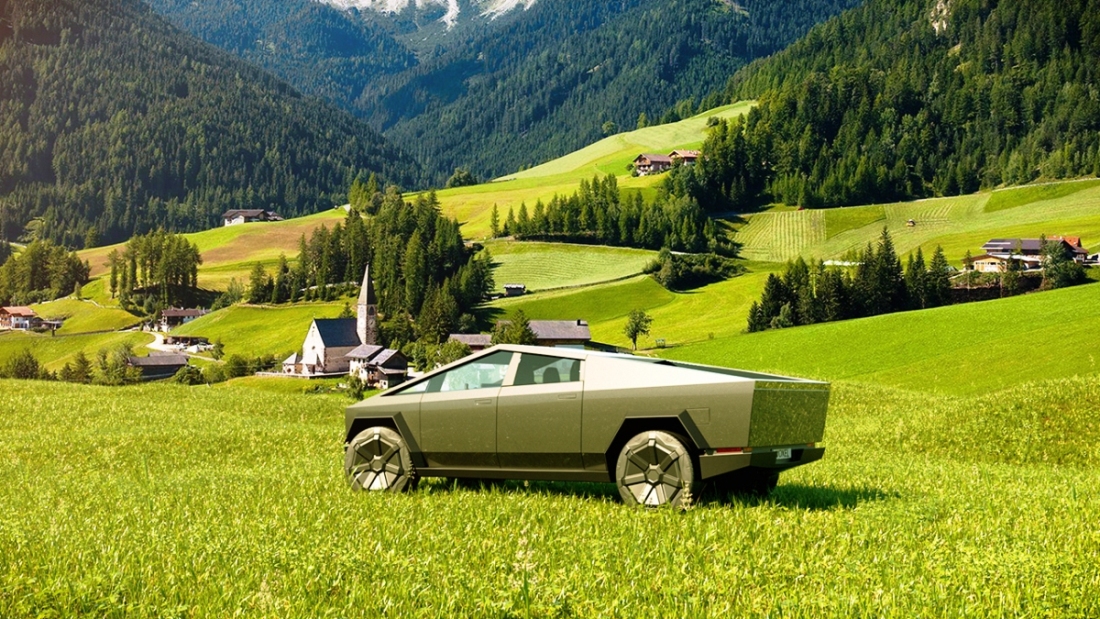 This means that you'd get it for $39,995. But you need to hurry—as only 20 of these are available for this offer. With some smaller deposits, like for $100, there's a sales price of $44,995. After all these offers are over, the final tariff of Cyberlandr will be $49,995.