Latvia-based Z-Triton (who recently rechristened as BeTRITON) first came up with the Z-Triton in 2020. And, after two years, the company has unveiled a production model that's now available for pre-order. Dubbed Z-Triton 2.0, this new model is claimed to be the world's first amphibious trike-boat-camper that can turn into a houseboat.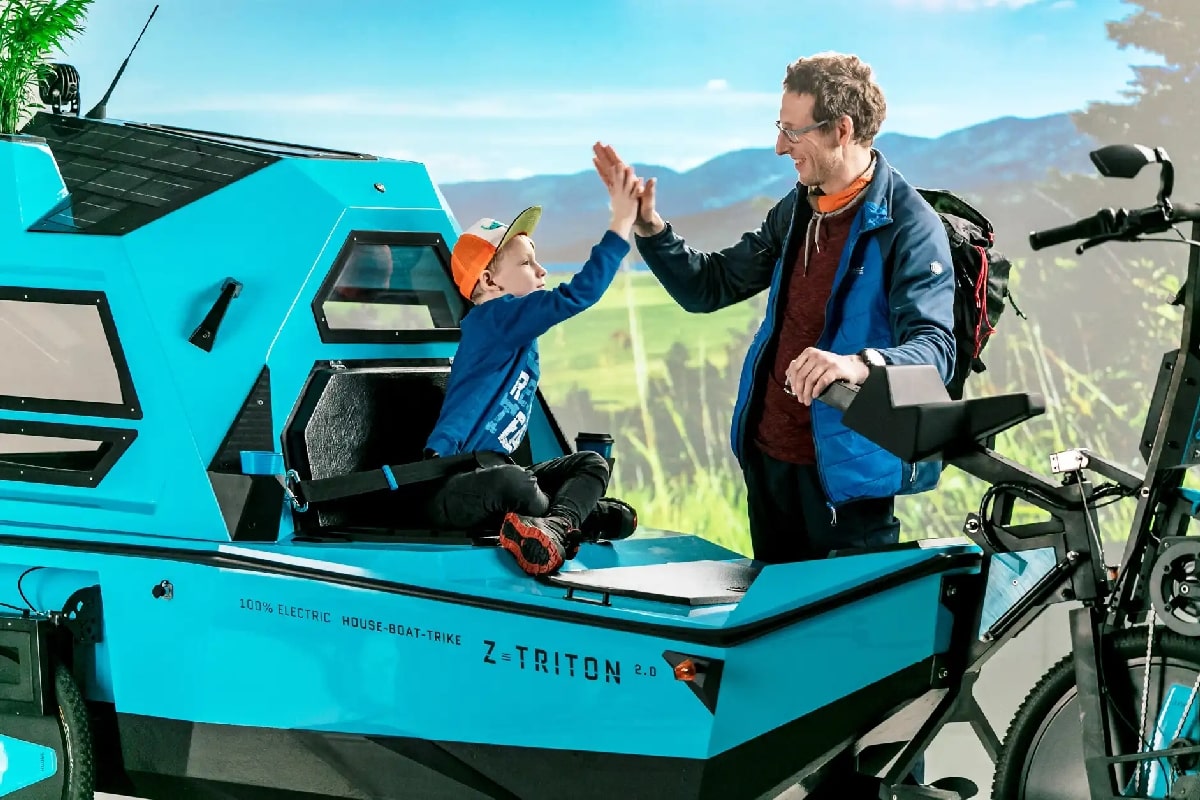 Overall, it is a comfortable recreational 3-in-1 vehicle that enables you to tour the world by sea and land. Its body consists of organic fiberglass and polyester, which are made from recycled PET bottles.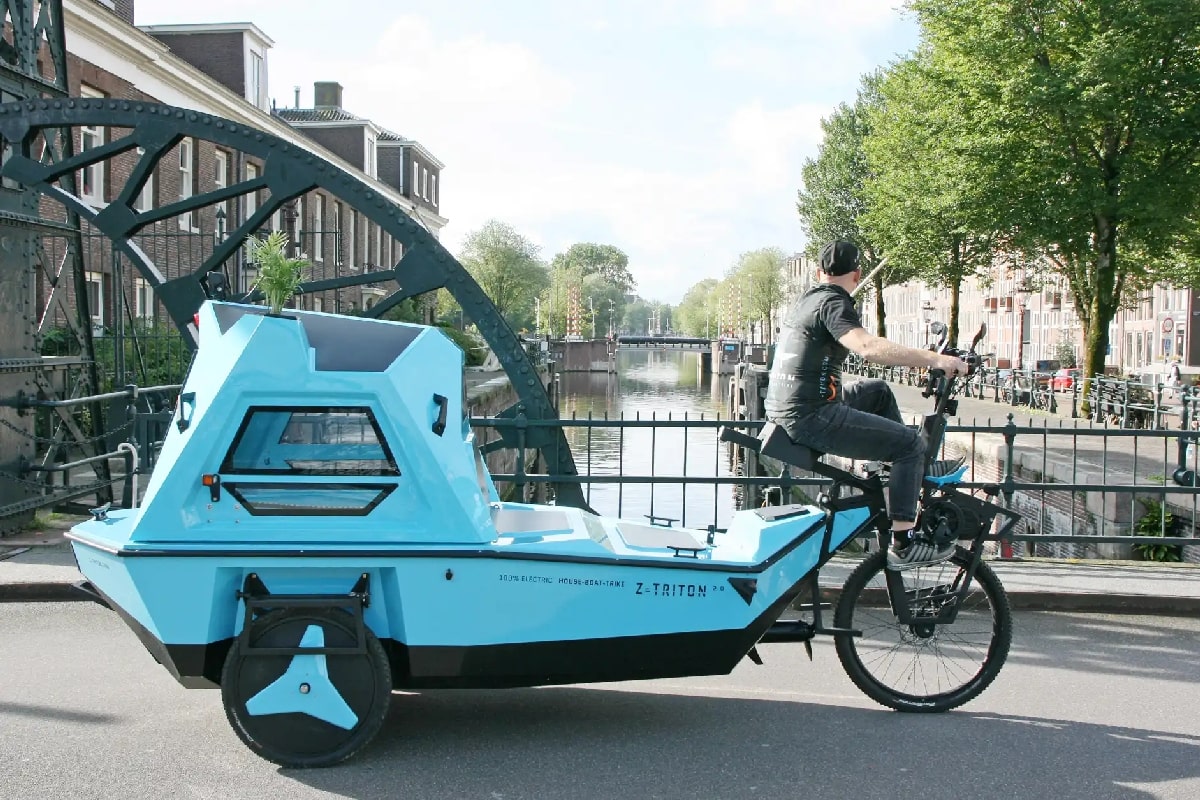 It even includes a huge chunk of 3D-printed bioplastic. Hence, offers you completely sustainable living space and RV. It also includes a plant pot to let users carry small trees along with them to reforest our planet in areas where you travel.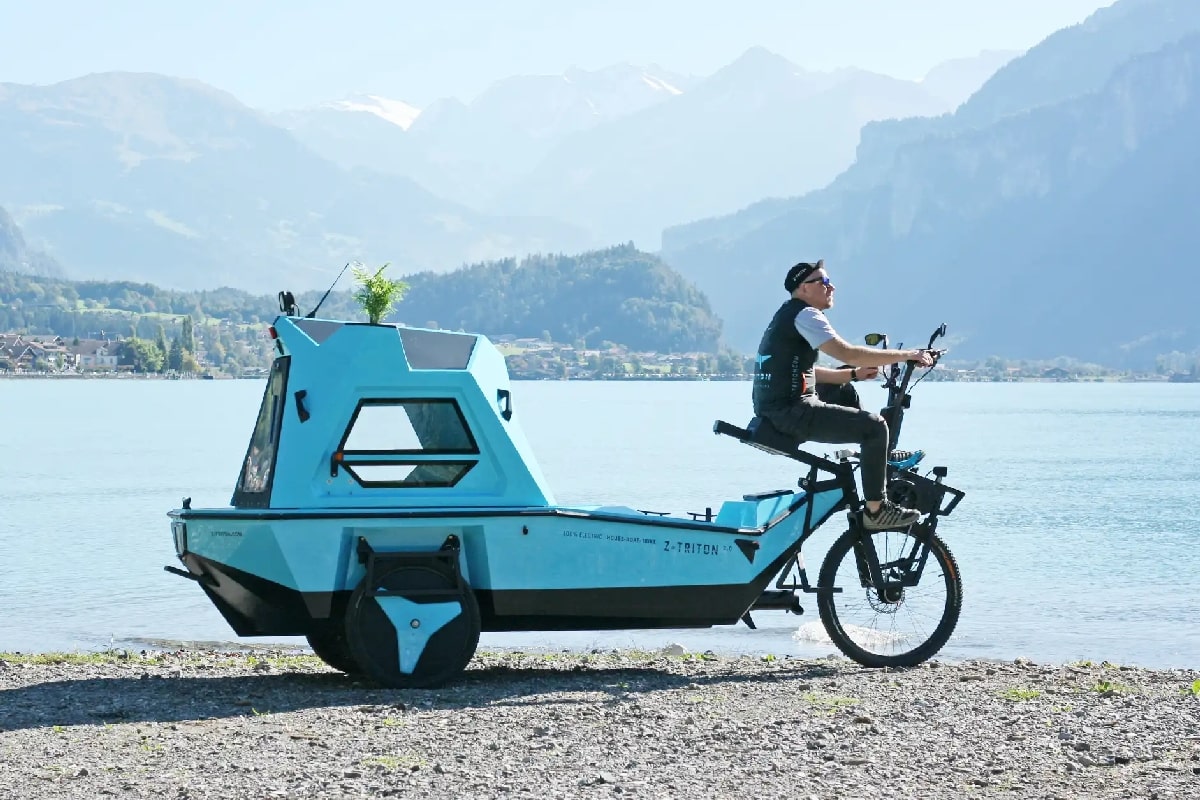 Therefore, it is also an environmentally-conscious EV that claims to be the world's most sustainable RV for carbon negative mobility.
Functioning of Z-Triton 2.0
The Z-Triton 2.0 generally rides on the small front wheel. But the rider sits higher compared to its previous prototype. The seat of the ride is also adjustable and offers utmost comfort with its rear suspension. This ensures that the riders can even take this EV for off-roading adventures.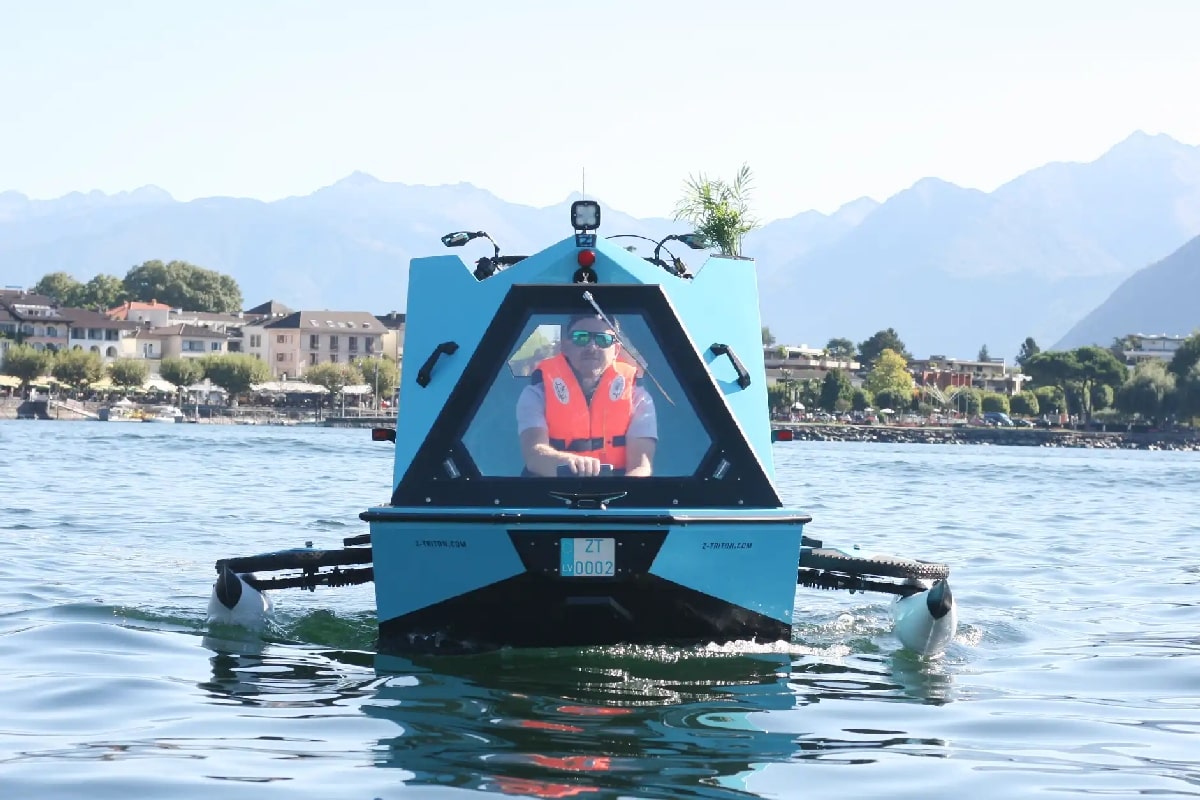 However, you need to carry proper safety gear with you. To stop it, you have to apply pressure on the hydraulic disc brakes. Furthermore, its motor is comparatively massive with 1,500 W power. And, it includes a seven-gear hub to help it functions appropriately in bike mode.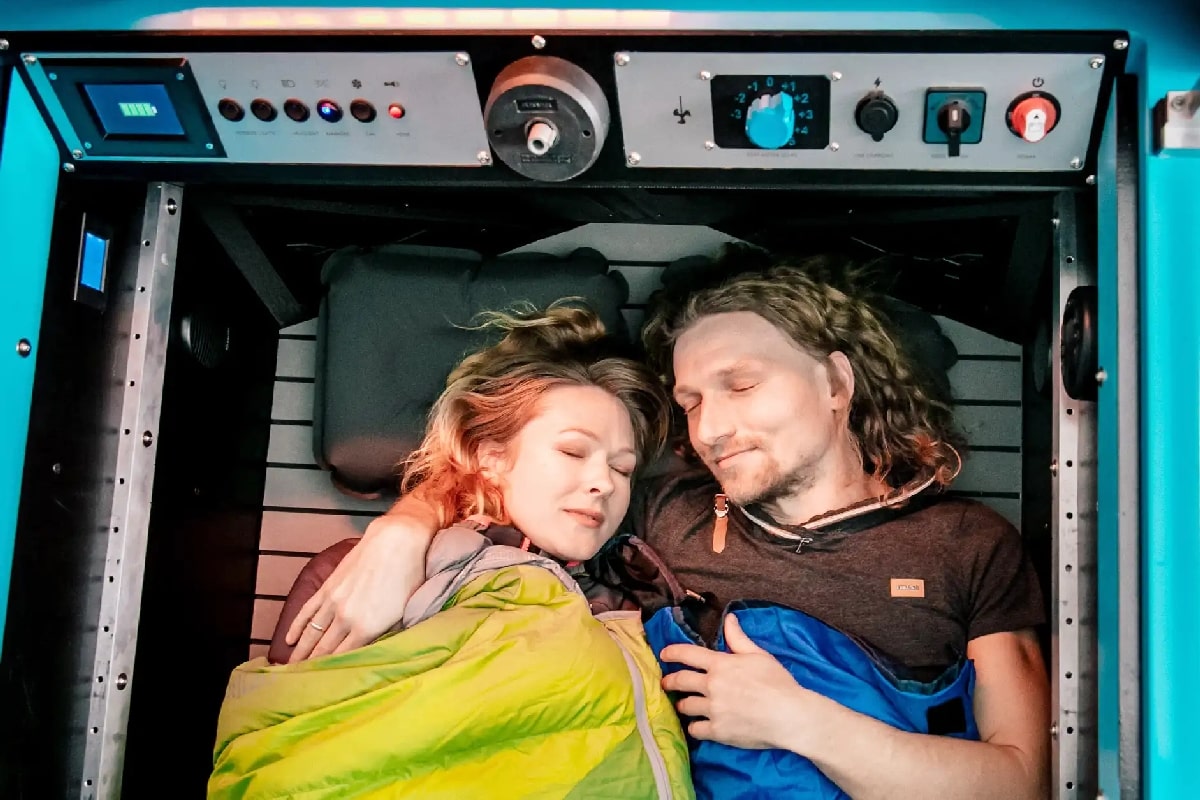 In boat mode, which takes only five minutes for conversion, you get an extra 1,150-W motor. This extra motor is easy to lift and drop from the cabin while telescoping oars if you run out of fuel on the sea. The maximum speed on the land is around 15.5 mph (24.94 km/h) and around 3 mph (4.8 km / hour) on water. Plus, the range of the vehicle is around 31 miles (49.89 km) on land and 12.4 miles (19.96 km) on water.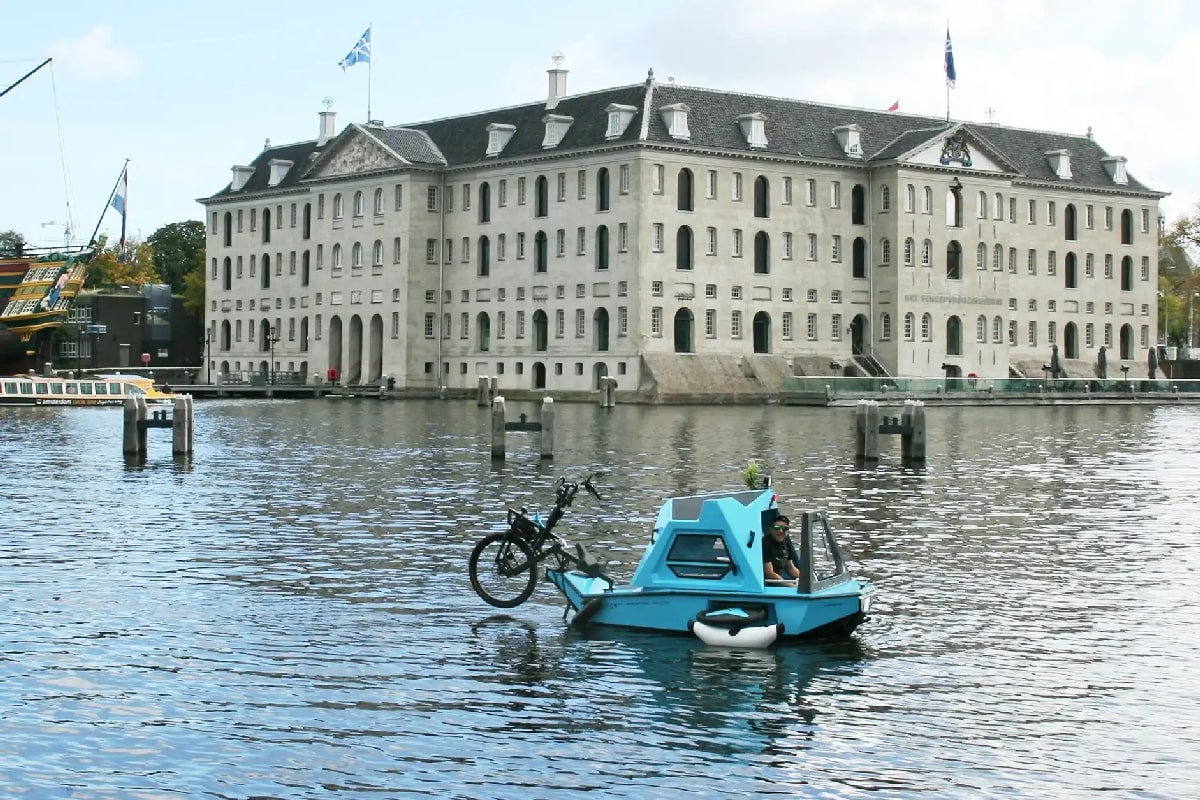 There is also a slight increase in the size of the new version, which measures now around 3.9 m in length, 1.45 m in width, and 1.72 m feet in height. Despite its cramped space, it still has enough space to accommodate two along with a small meal preparation area, a small folding table, interior lights, and some storage.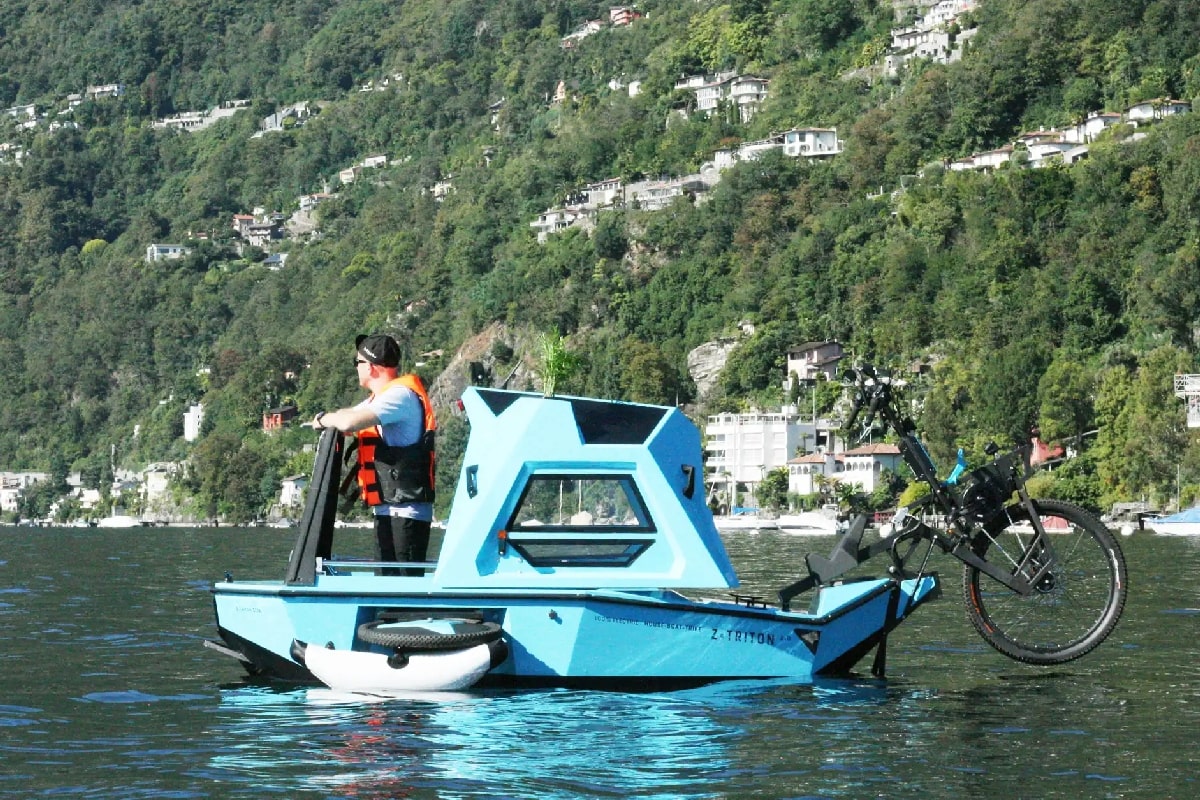 It even includes a 1 x 2-meter sleeping area. The makers are also looking for the possibility to add certain heating options. But for now, you can only rely on cuddling and woolen clothes for keeping warm.
Tech specs and more details
The good news is that you don't need a special license to operate the Z-Triton 2.0. Depending on your mood, you can easily use it in saltwater, on the highway, and on bike paths. The dry weight of this electric vehicle is around 441 pounds, and you can add an extra 441 pounds to it, including the passenger and the rider.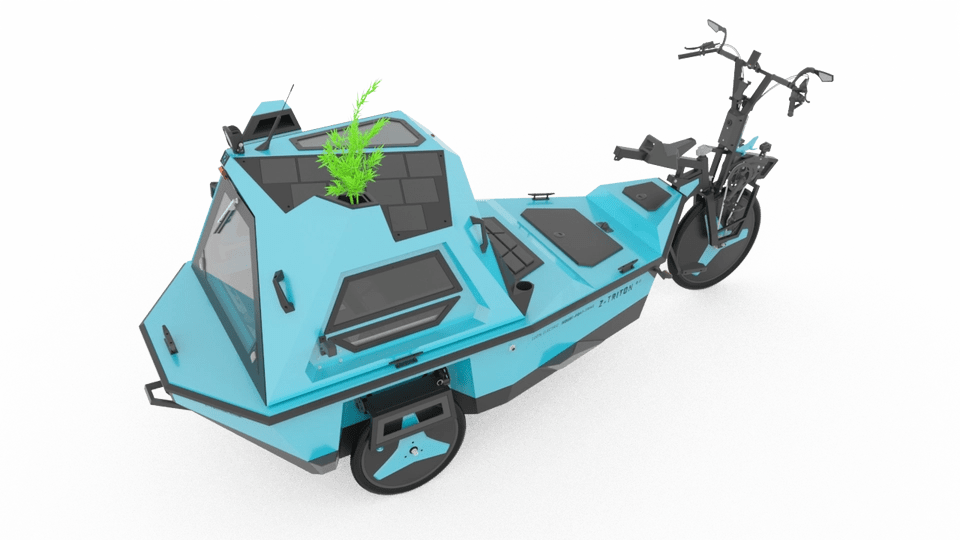 It means that you can travel just with one more person and your luggage when traveling through this 3-in-1 electric vehicle.
The vehicle is powered by an e-bike assistance motor and an electric boat motor. Some other features of the EV include a Li-ion battery pack, integrated solar roof panels, GPS, heating/cooling options, and a stereo sound system.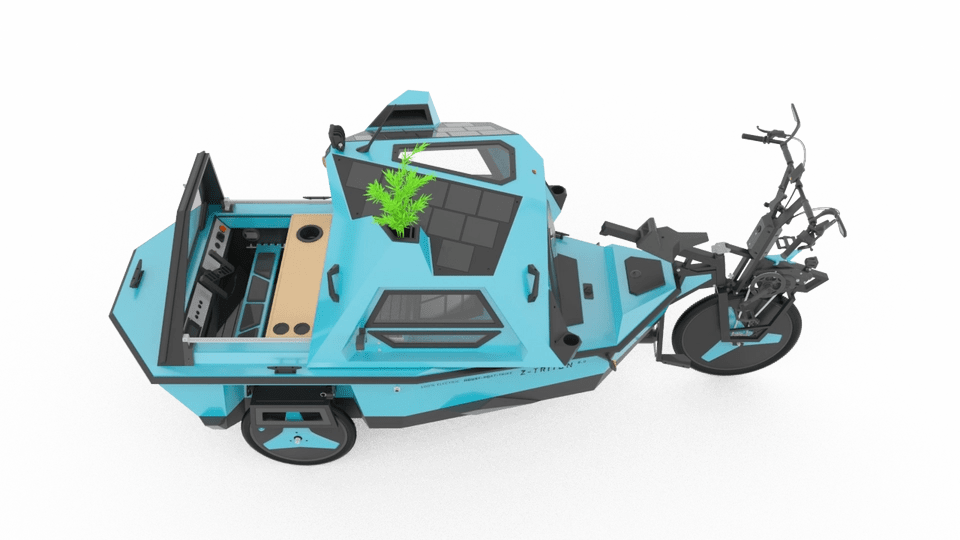 Here is a list of all the specs and features:
Can accommodate 2 people max
Electric motor (1150W) drive boat
Steerable from cabin
Solar panel mounted on roof
Li-ion battery pack
Range 50 km on land and 20 km on water
Front headlight
Inflatable stabilizers.
Motor power display & controls on handlebar
Gears shifter, hydraulic brake levers
Lights, honk, turn indicator switches
Attachable oars (optional)
Windshield wiper
Built-in radio with Bluetooth connection
Battery charging socket with 220V cable
Adjustable trike seat
Hydraulic brake lever with parking lock
24" rear wheels with suspension and hydraulic disc brakes
Removable steering wheel
2 USB charging ports
7-speed gear hub
Max speed on land, 25 mph (40.23 km/h)
Max speed on water, 19 mph (30.58 km/h)
3.6 meters in length and 1.2 meters wide houseboat interior
Price
New improvements to this prototype also mean an increase in its starting price. The ready-to-go Z-Triton 2.0 will cost you around €14,500 (approx. US $16,344) and a DIY kit is estimated to cost around €4,500 (approx. US $5,072).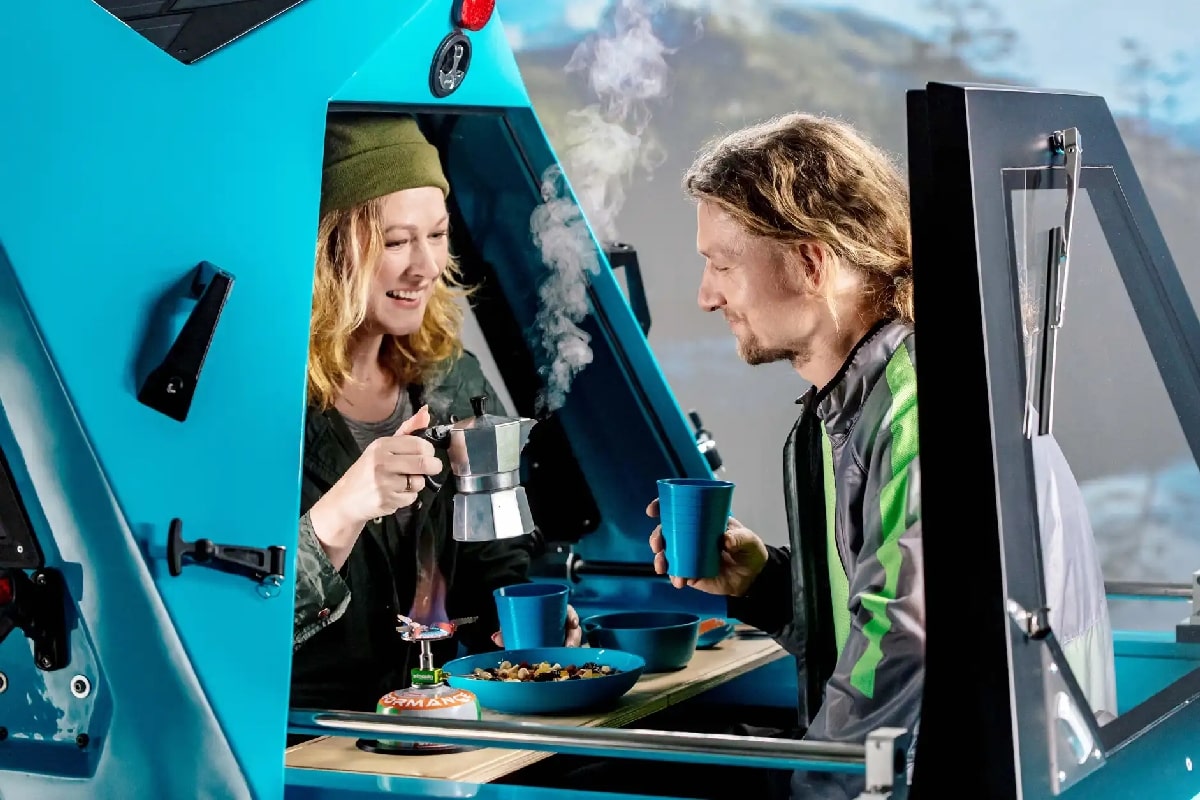 The shipping to Europe is estimated to take place around late 2022 and to the U.S. in 2023.