During Apple's special event in October, they unveiled the $19 Apple Polishing Cloth as the star of the show. But its availability is delayed until the end of January. Making the most of the gap between Apple Cloth's showcase and availability, Tesla, led by Elon Musk, has launched their overpriced accessory—a Cyberwhistle.
Elon Musk wants you to blow the Cyberwhistle
The carmaker announced the release of their new Cyberwhistle via a Twitter post, inviting his followers to come and "blow the whistle on Tesla." As the name suggests, this new pricey accessory by Tesla is influenced by Cybertruck design, the company's all-electric pickup truck that brought a revolution into the EV world soon after its debut in November 2019.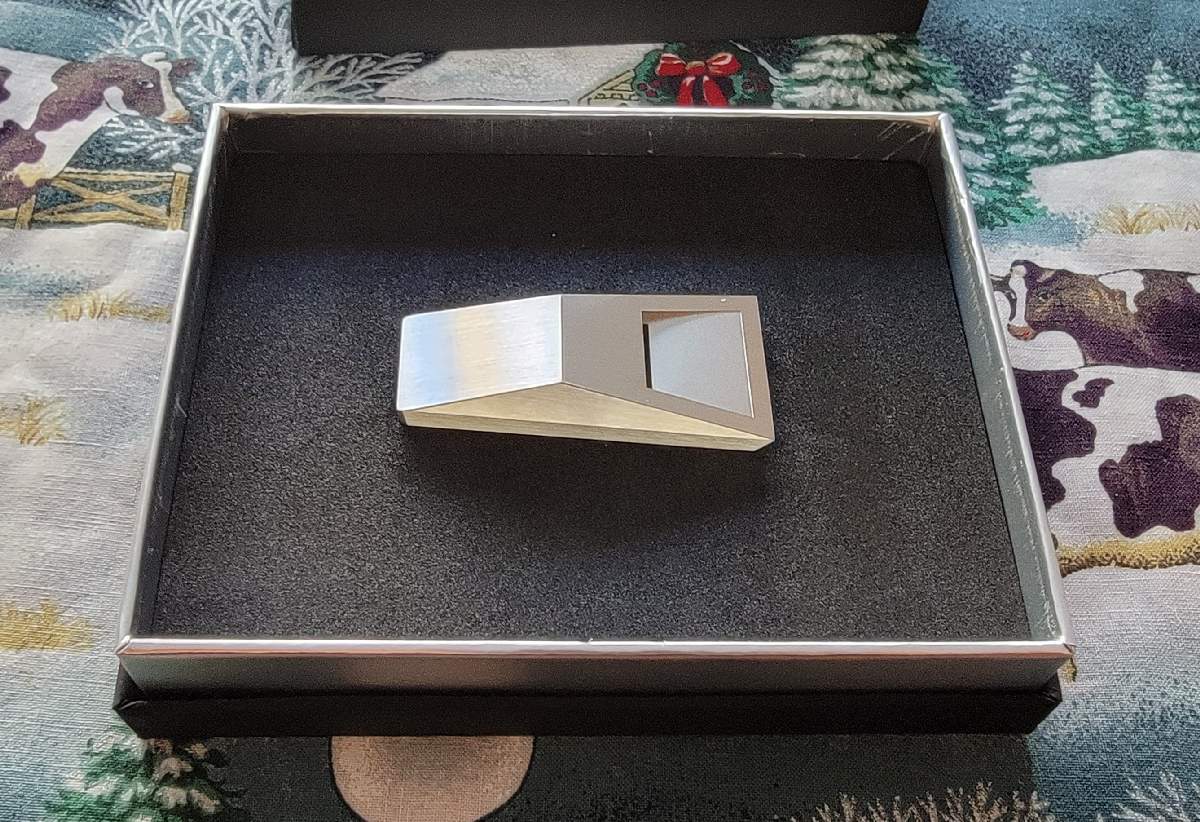 Now, the limited-edition whistle by Tesla takes the angular, clean-cut shape of the Cybertruck. It also comes in a similar silver finish as the all-electric pickup truck. As per the company listing on their website, this premium collectible is made using medical-grade stainless steel.
Elon Musk's dig on Apple cloth
Taking a dig at Apple Polish Cloth, Musk Tweeted a sarcastic message, "Don't waste your money on that silly Apple Cloth," and rather "buy our whistle." With this, he wanted to influence people to not waste their money on the polishing cloth but spend it on a better and stylish option—their Cyberwhistle.
Blow the whistle on Tesla!https://t.co/c86hLA0iQK

— Elon Musk (@elonmusk) December 1, 2021
Even Twitter users swarmed Musk's post to express their different opinion. Have a look!
Tesla and Elon Musk poke fun at 'silly Apple Cloth' with new $50 Cyberwhistle https://t.co/LI1VX2QP6c $AAPL pic.twitter.com/inD2XGq9oE

— MacHash (@MacHashNews) December 1, 2021
Omg lol . Is this trolling Apple cloth ? @elonmusk @Tesla . But take my money ! pic.twitter.com/s6GF96LG0w

— paul c (@lionkingapple1) November 30, 2021
Tesla 2021: "Buy this little whistle. It's fun."

Tesla 2023: "Simply blow your cyberwhistle to summon your cybertruck."

— Simon 101 (@sc101_101) December 1, 2021
Is Apple polishing cloth $19 worth?
Jacob Krol from CNN tested Apple's polishing cloth for weeks, and he doesn't recommend spending $19 on it.
After several weeks of use, our verdict: Though you might want to show it off, you likely don't need it. For most people, we'd recommend the Amazon Basics microfiber cloth.
When your Tesla Cyberwhistle order will arrive?
Sadly, the Cyberwhistle is now out of stock on Tesla's website. And, we're not sure when it will be available again.
Are you a Cyberwhistle user already? Or you're just waiting for the Apple Polishing Cloth instead? What's your opinion on both these expensive non-core products? Share your opinion with us.
Images: Tesla