Did you know that Big Tech companies made a whopping $416,768 of revenue every minute in 2021's first quarter, on average? It's quite difficult to imagine how big the super 7 (Apple, Amazon, Alphabet, Tesla, Microsoft, Netflix, and Meta) tech companies will be in the future.
And, why not? These companies keep outdoing themselves in advancing technology and their products / services.
Even the pandemic has pushed these tech companies to be more active online. Due to this, the FAATMAN stocks (Facebook/Meta, Amazon, Apple, Tesla, Microsoft, Alphabet, and Netflix) have grown immensely.
Money super 7 big tech companies make every minute
With most of these companies enjoying record-breaking quarters, what could be their revenue count per minute? Well, here we share with you the details:
Facebook (now Meta)
Facebook is recently facing some issues as privacy matters have gained more political attention. But this doesn't seem to have impacted their business in any way. The most recent quarter of the company generated around $27 billion in revenue. And, the flagship platform hosted an average of 2.8 billion monthly active users (MAUs).
Alphabet
Alphabet, Google's parent company, is again a behemoth. They closed last year with $182 billion in revenue, along with around $20 billion from YouTube.
Did you know that around 4 billion Google searches occur every day? This makes it one of the most famous websites in the world.
Amazon
While the US is Amazon's most prominent market, it does quite well in other regions of the world. For instance, in the past few years, they generated around $29 billion in revenue from Germany and approx. $20 million of revenue from Japan.
Tesla
Tesla's growing EV narrative has helped the company reach new heights. Recently, the firm even gained the prestigious S&P 500. And, with that, Elon Musk has also entered the risk of being one of the richest people in the world.
Microsoft
Another largest Big Tech stock is Microsoft. They have a massive market cap of around $1.75 trillion. Moreover, their diversified businesses include, LinkedIn, Bing, Xbox, and other cloud computing services Azure.
Apple
Apple is not just into iPhones anymore. In 2021's first quarter, the company's services segment made around $15.7 billion in revenue. This is higher than both the iPad and Mac, which each contributed to around $8 billion in revenue. Moreover, they are also into home, wearables, and accessories, markets that generated around $12.9 billion in revenue recently.
Netflix
Thanks to a pandemic, more and more people started binge-watching on Netflix. This helped the streaming giant gain more than 52 million new subscribers. Now their total subscribers would be more than 203 million.
The future of big tech
The total market cap of the FAATMAN stocks is more than $8 trillion. If we compare it, this massive amount is equivalent to Canada, France, and Germany's total GDP.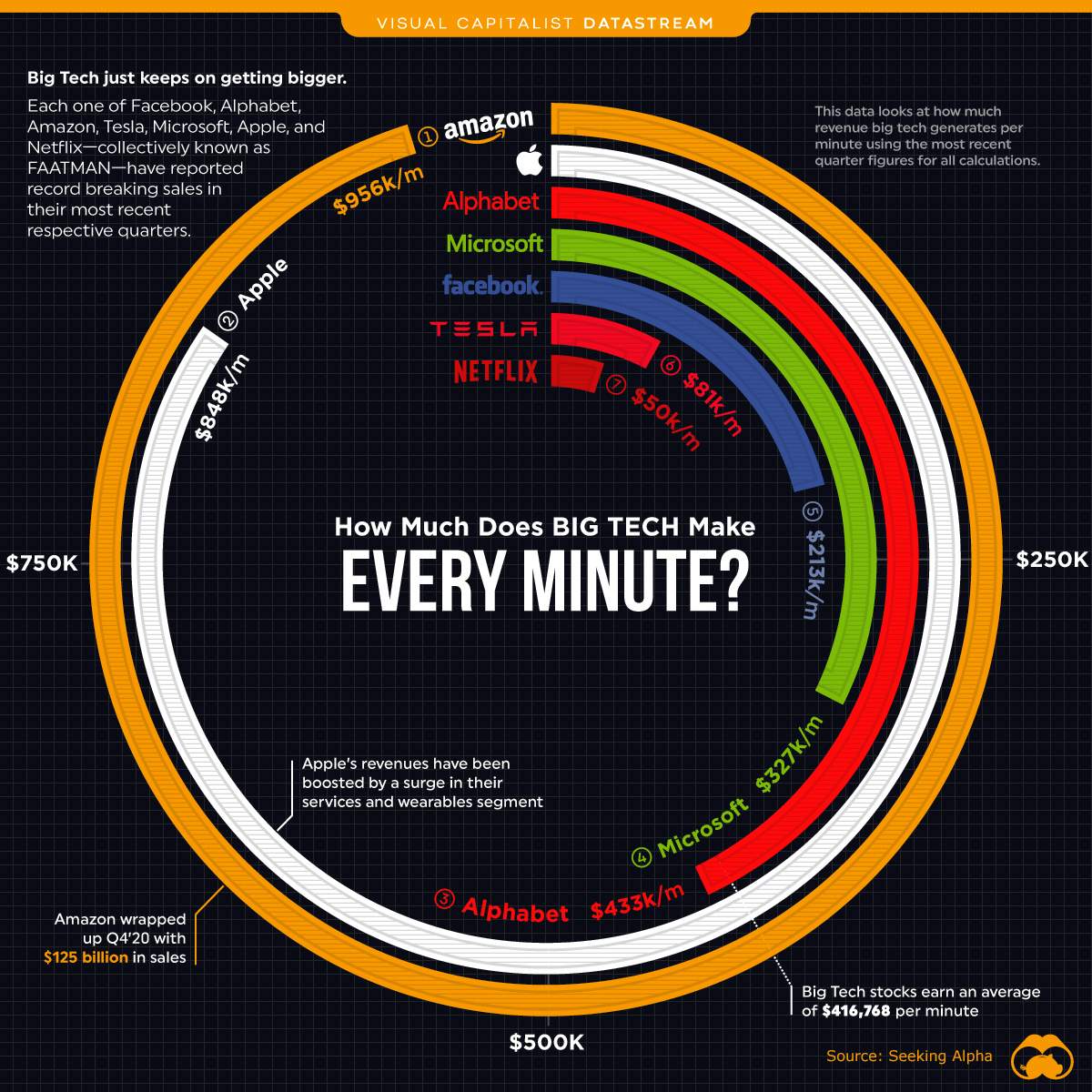 According to SEC filings, these gigantic valuations are not done yet. These tech giants are likely to grow even more in the digital era. As per the given statistical data, it seems that no one can stop the FAATMAN from getting fatter and fatter.