Plastic-made components, or wads, in the traditional gun cartridge used for shooting by the hunting community are highly toxic. They have a huge environmental impact and are injurious to the animals that eat them after the pellets have been fired. While the hunting community is under pressure from environmental activists, many ammunition companies are trying to develop eco-friendly alternatives.
Offering a brilliant solution, BioAmmo has created bioplastic material for cartridges, extending an exceptional combination of strength, flexibility, and biodegradability. The Spanish firm now holds limited world-wide AAA patents for the use of these specifically designed biodegradable shooting cartridges.
What is BioAmmo?
BioAmmo is an ammunition company based in Spain that has been working to re-formulate the plastic case and the enclosed cup wad using a vegetable polymer. Following years of research, the company is now able to offer 100% plastic-free, biodegradable and bio-compostable shotgun cartridges, which are now being sold in over 20 countries.
How's BioAmmo helping protect the environment?
BioAmmo products are a major step forward in helping protect the environment from additional plastic pollution from the hunting community. These biodegradable cartridges degrade in water and soil, leaving only water and inert biomass behind without any toxic residues or microplastics. The material sinks in water that helps in the easy decomposition process.
These wads and cases do not contain any plastic components, require no form of recycling, or need any particular environmental conditions to biodegrade. When dissolved in water, they do not release any noxious remnants and are perfectly safe for the ecosystems.
How green is it?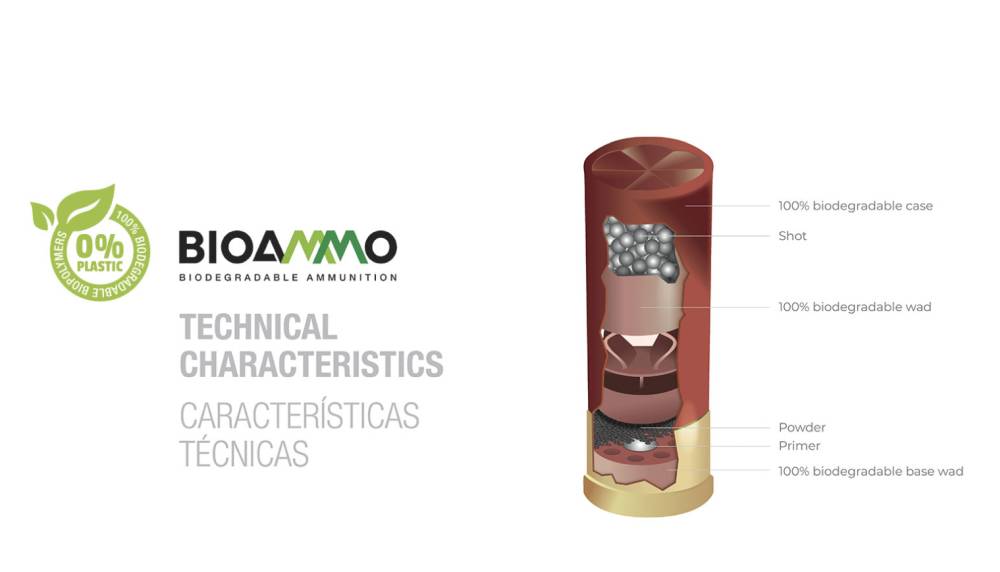 These wads and cases are made with biopolymers of plant origin, therefore, they do not generate any harmful synthetic molecules or microplastics that would pollute the environment. BioAmmo products do not contaminate the water, land or adversely affect flora and fauna.
They are encouraging more sustainable shooting while simultaneously reflecting a growing global trend to lessen as much plastic as possible, and providing a massive improvement for the Clay and Game sectors.
Composition
With high-end technology and manufacturing processes to produce biodegradable cartridges, the Spanish firm is revolutionizing the shotgun shooting trends. BioAmmo wads and casings are manufactured onsite.
The plastic casing and plastic wadding are swapped with a vegetable biopolymer, and the metal base in a non-toxic alloy of copper and zinc designed to oxidize and disappear, therefore, releasing no harmful residue in the environment.
| Also Read: Company Turns Old Plastic Bottles into Plush Hotel Bedding
Bottom line
While plastic is a great material when it comes to durability and lightweight, it has severe impacts on the environment. Moreover, the human race has been unable to manage plastic waste in an environmentally-friendly manner, making it absolutely necessary to reduce non-biodegradable waste wherever possible.
Shotgun shooting is under a lot of pressure to improve its eco-friendly qualifications, and BioAmmo has provided a legit solution – the fully biodegradable cartridge cases that are the ideal candidates for reducing the plastic waste from shotgun shooting.