Buying a limited-edition $28 million Rolls-Royce boat tail car might sound tempting. But it is an out-of-reach hypercar for most of us. That's why a Vietnamese wood artist decided to take things into his own hands and create a miniature replica of a Rolls-Royce Boat Tail for his son.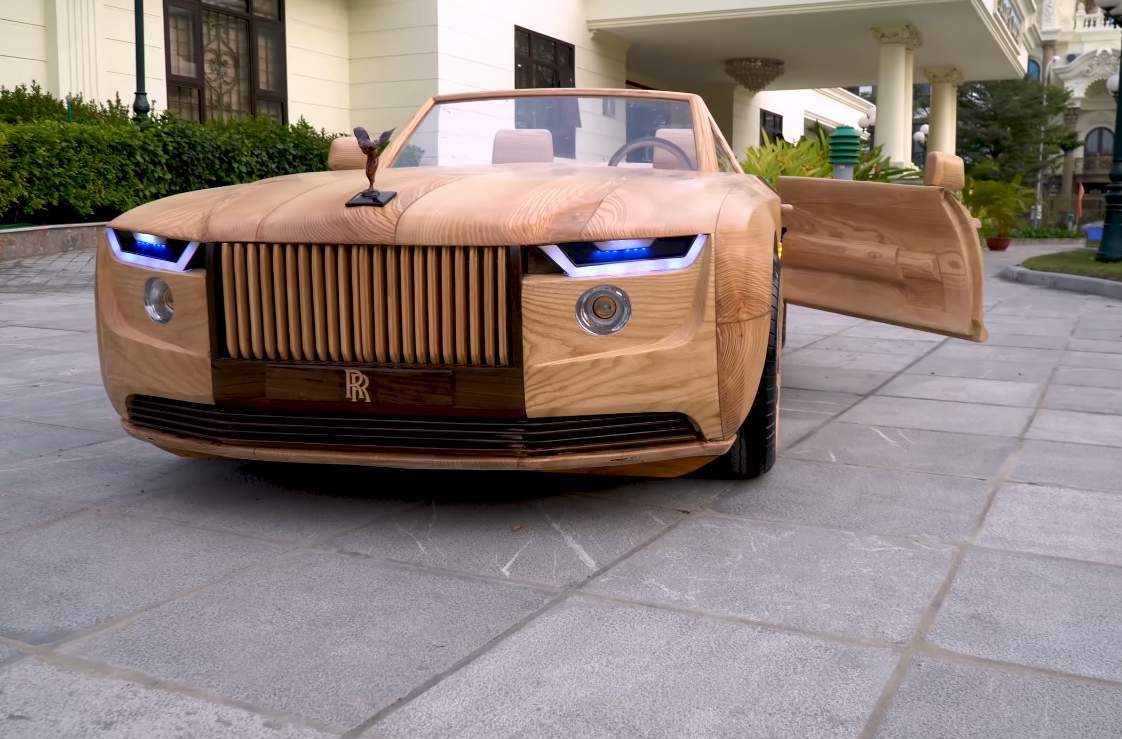 Trương Văn Đạo, father and YouTuber with more than one million subscribers (his YouTube channel is ND Woodworking Art), builds functional replicas of various luxury automobiles. Last year, he even built a mini-sized wooden Lamborghini Sian.
Fully functional mini replica of Rolls-Royce Boat Tail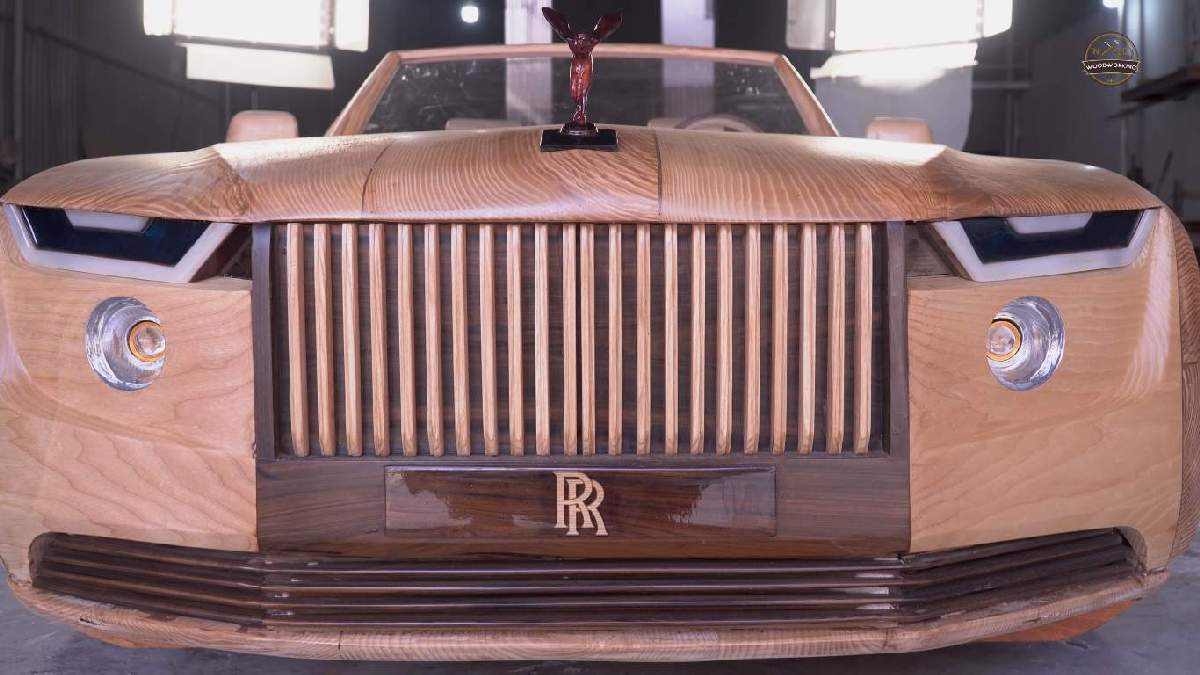 This time, Dao thought leveling up things up and mimic the design and build a fully functional mini wooden replica of probably the world's most expensive car. Văn Đạo's Boat Tail scaled-down replica comes with opening doors, electric motor powered drivetrain, disc brakes and functional headlights/tail lights.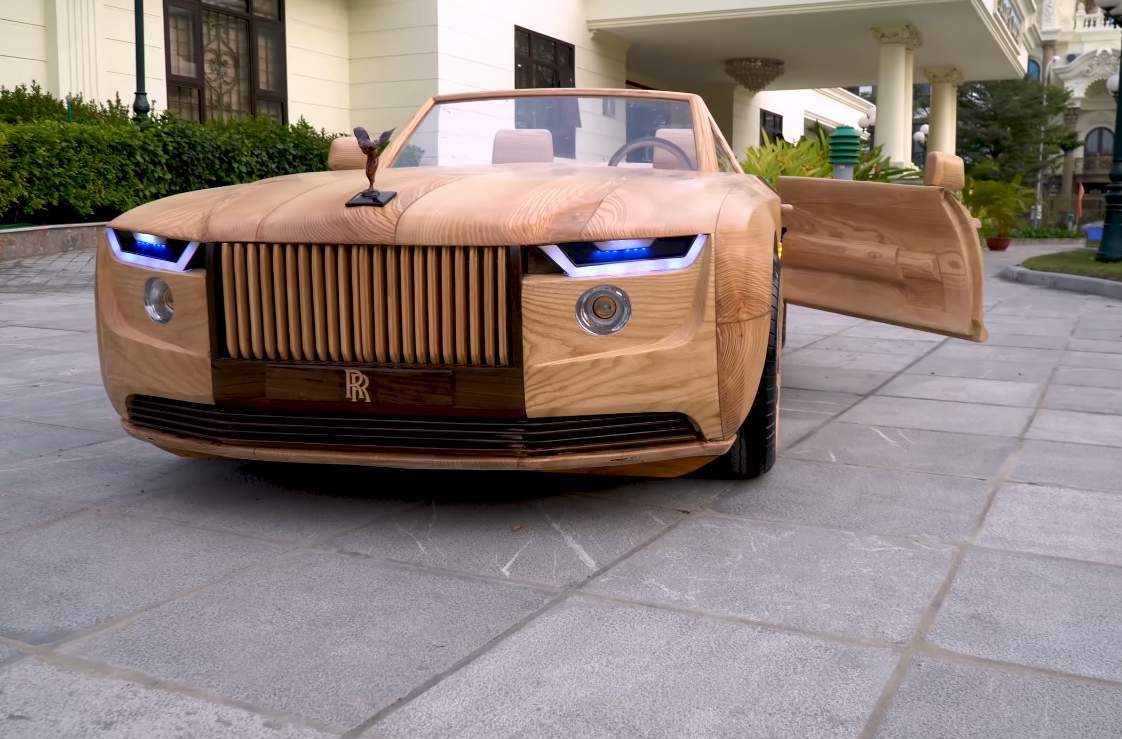 But wait, there's something more! It is the rear butterfly trunk that opens up to display a set of glasses, a place for docking, an umbrella, and some juice boxes.
Drivable wooden Boat Tail in 68 days
It's brilliant how he created this driveable miniature car from scratch, and it took 68 days to finish this work of wooden art. He didn't even rely on any existing toy car chassis or any other material other than wood. He began the process by putting big wooden pieces together to make up the whole design.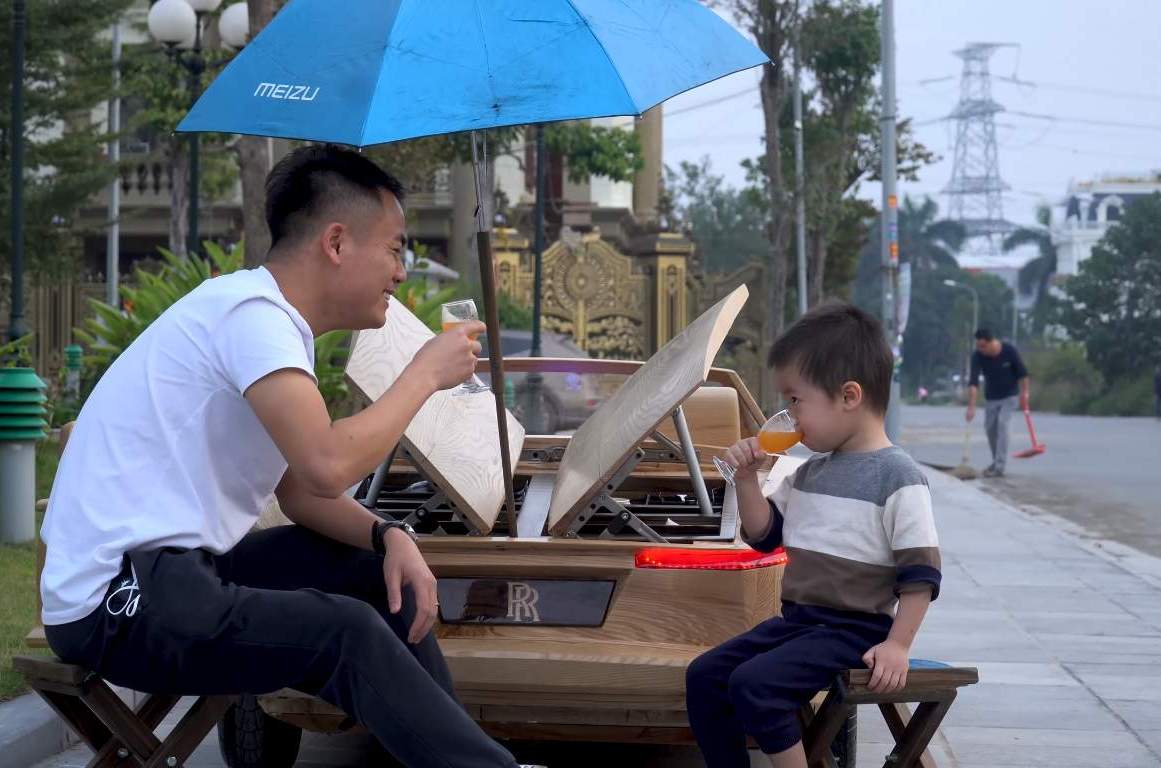 The resulting replica resembles the original, as you can see in the images. However, the building process takes months, keeping in mind the detailed work by Văn Đạo.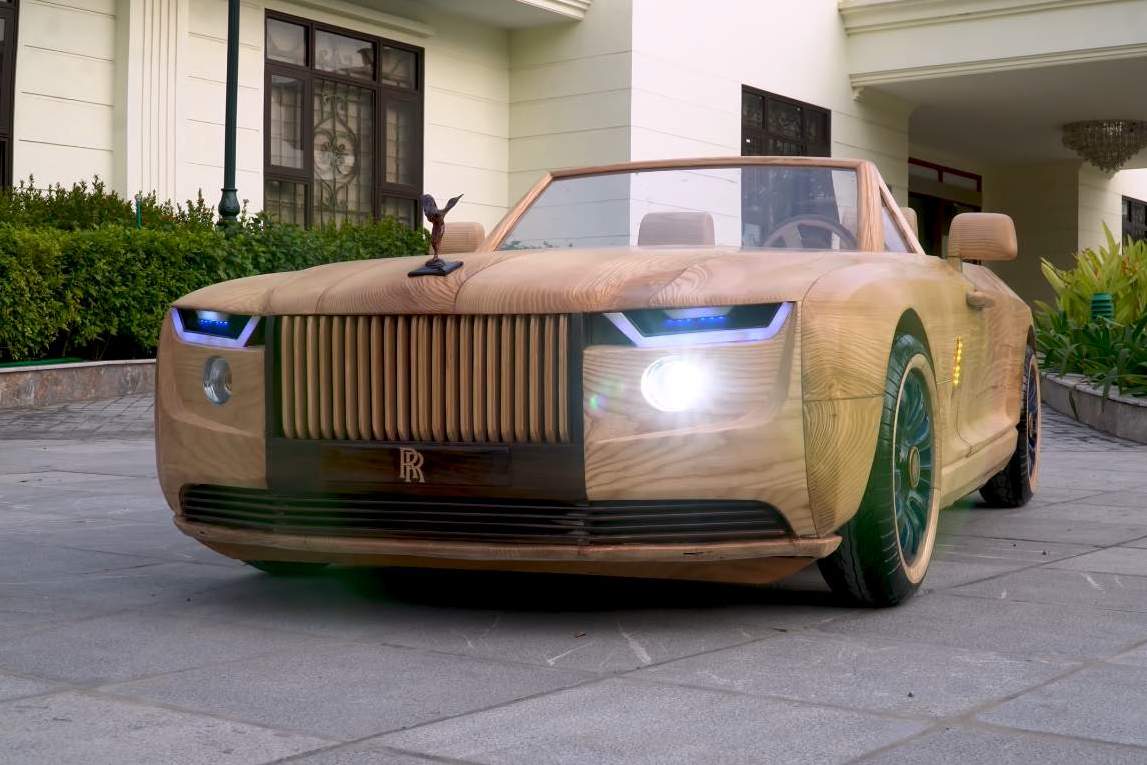 In the creation process, he even assembled the wooden car's powertrain. The powertrain fits the car's rear, just below the drink-holding trunk. But unlike the original car, the tiny replica boasts a battery-powered motor rather than a V12.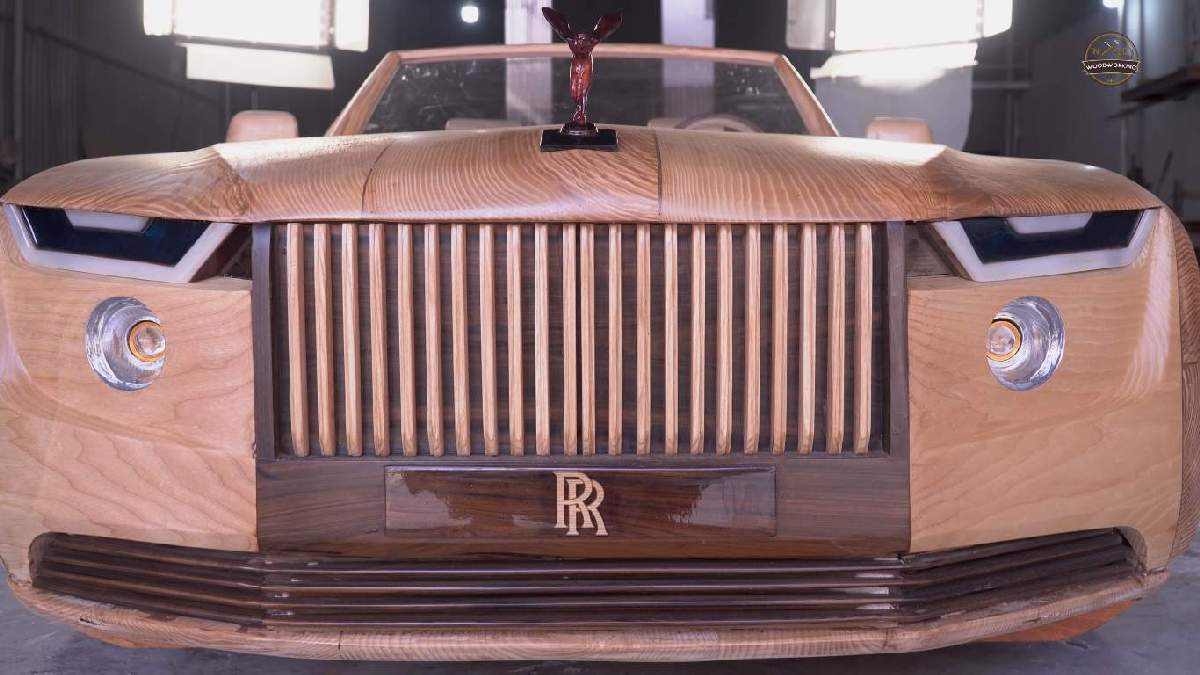 Dao drives (reaching max speed of 50 kph) the wooden car gracefully through the streets rather than setting speed records. For finishing off, he used different tools, like hole-saw bits and sanding machines. All this equipment is essential to make all the details from slots on the windshield to hole-saw bits.
Boat Tail that is not blue
Unlike the original blue two-seat convertible Rolls-Royce boat tail, Dao's mini replica car is not blue.  His version of Boat Tail retains shades of wood colors. The car even uses various grades of wood. For instance, lighter wood makes the body and the interior. And, the darker woods make other details, like the parts of the dashboard, grilles, and even the Spirit of Ecstasy statuette on the car's hood. Plus, the entire exterior is covered in a layer of lacquer for a shiny finish.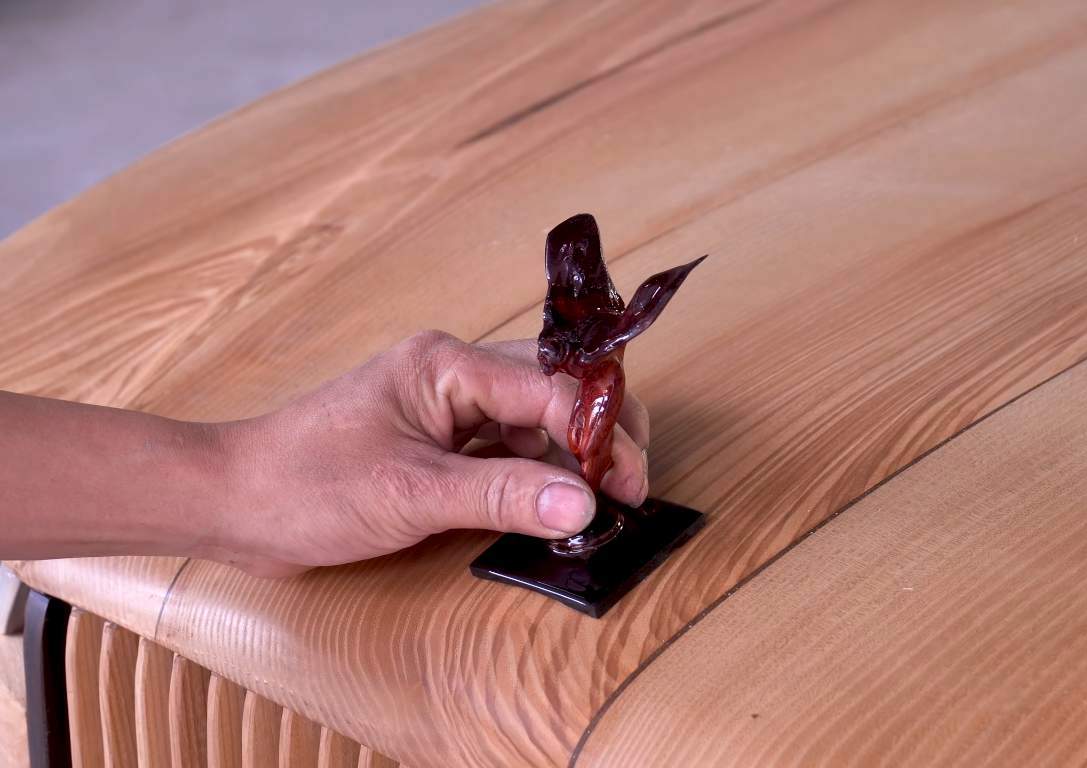 At the end of the YouTube video, you can see the father taking his son for a ride in this new car. He even stopped in a corner for busting out the drink that's fitted in the back of the car. Both father and son share a glass of orange juice. Hence, they make car riding memories even more valuable than a $28 million car itself!