The world is full of masterpieces and non-traditional architectures which no one can deny. Architects have built numerous buildings and tall structures that not only amaze people but also leave them thinking and wondering about the purpose and inspiration behind architectures that go way beyond the regular. There are so many amazing buildings around the world that are known for their weird shapes, designs, and distinct looks.
Here's a list of some of the weirdest architectures around the world that will leave you thinking.
The Dubai Frame – Dubai, UAE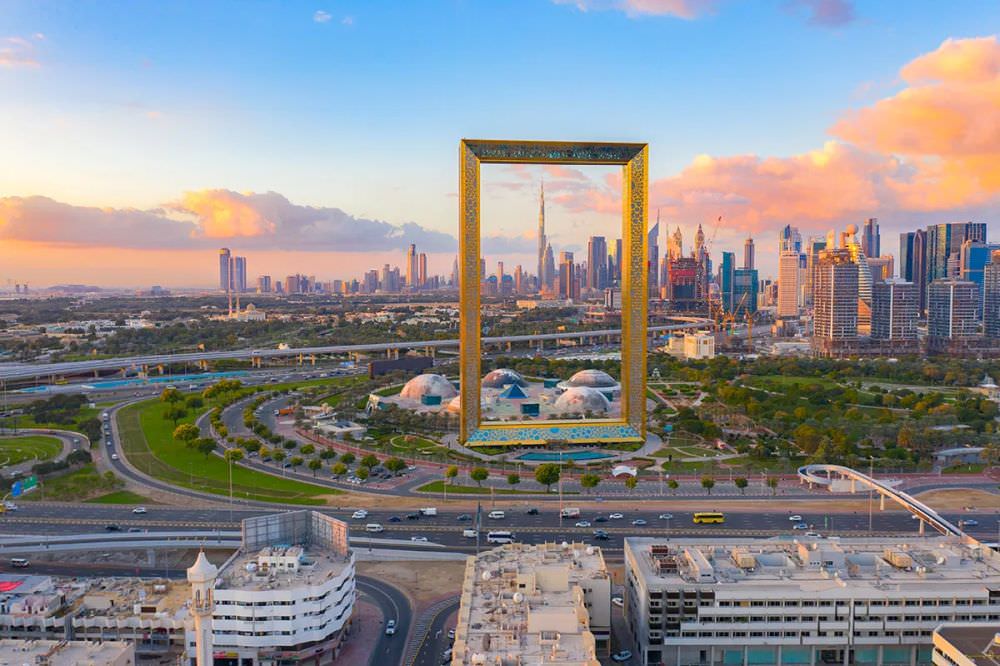 The Dubai Frame is the world's largest picture frame, measuring 150 meters high and 105 meters wide. Fernando Donis conceived the architectural landmark, believing that rather than erecting a new monument in Dubai, it would be more fitting to frame the city's current monuments. Meanwhile, he aimed at emphasizing the city's history, present, and future.
The landmark, however, is surrounded by controversy, as Donis was chosen as the winner of a design competition held by the Dubai government. He argues that the project was built without him obtaining a contract or any compensation.
Atomium – Brussels, Belgium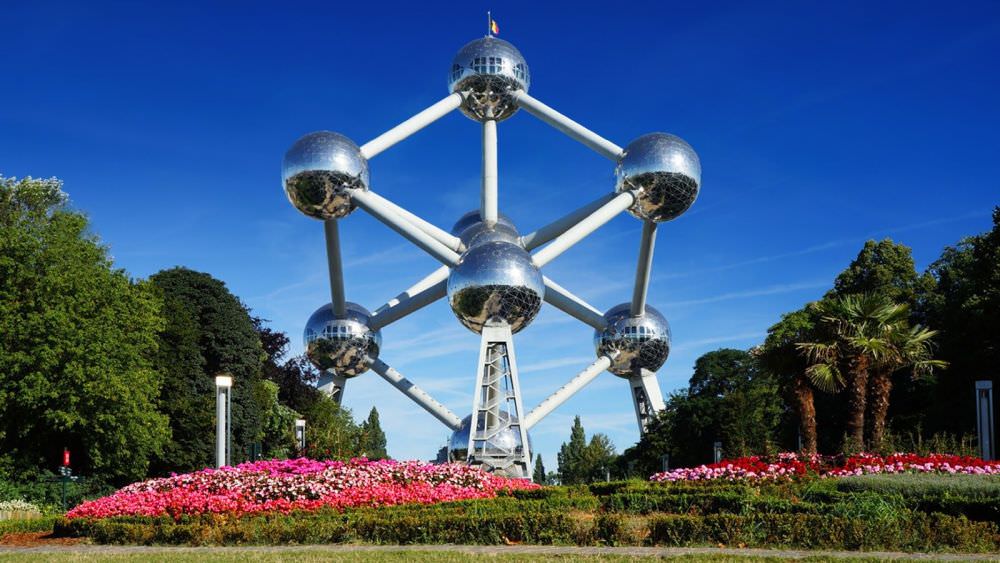 Designed by engineer Andre Waterkeyn and architects Andre and Jean Polak, this atom-inspired structure was built for the 1958 Brussels World Fair. The structure, which was chosen to represent the excitement of the Atomic Age, is made of nine stainless steel-clad spheres, six of which are open to the public.
The house, which features the world's fastest elevator (5m/s) and was built to last just six months, is a real engineering marvel. The structure has now been converted into a museum.
National Fisheries Development Board – Hyderabad, India
The National Fisheries Development Board's regional office, which is located in Hyderabad, India, is shaped like a giant fish. Frank Gehry's "Golden Fish Sculpture" in Barcelona was the inspiration behind the project.
The massive fish-shaped structure, which was completed in 2012, appears to be floating in mid-air. Its silver body is punctuated by rectangular scale-like windows, while the front facade has a hollow mouth and blue glass eyes.
The Central Public Works Department of India built the three-story, 1,920 square-meter structure this way for the simple reason that the work done inside the building is related to fisheries.
Wuxi Wanda Cultural Tourism City Exhibition Center – Wuxi, China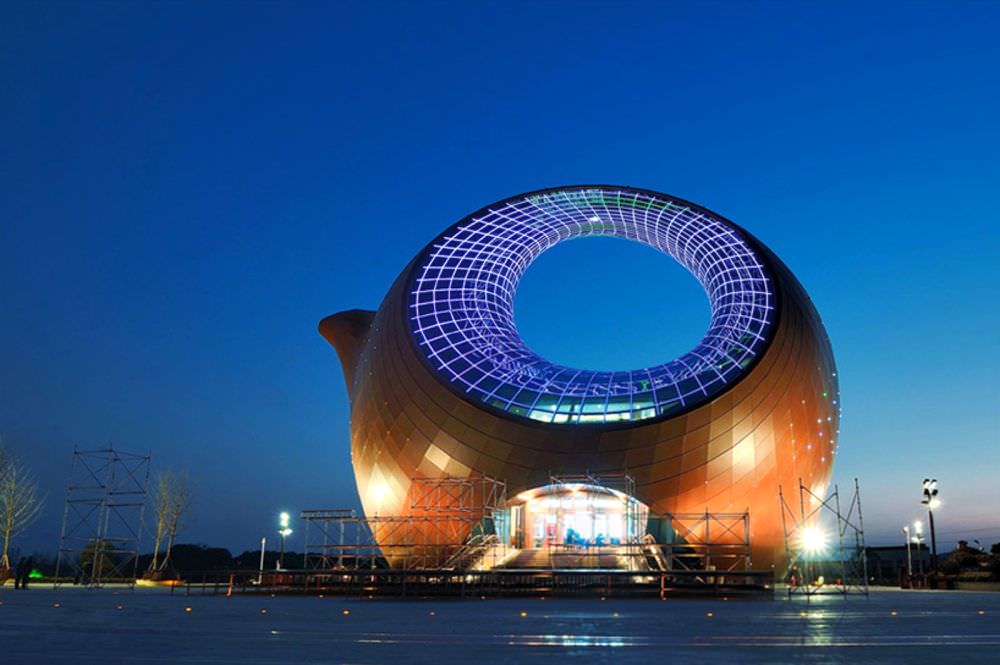 Shaped like a giant revolving teapot, this building is a Chinese exhibition center that pays homage to the local customs. The revolving frame of the building also allows it to function as a miniature Ferris wheel, roller coaster, and water park.
The Yixing clay teapot-influenced structure has been part of a "Tourism City" since 2017. The company claims that the platform will one day surpass Disneyland.
Al Janoub World Cup Stadium – Qatar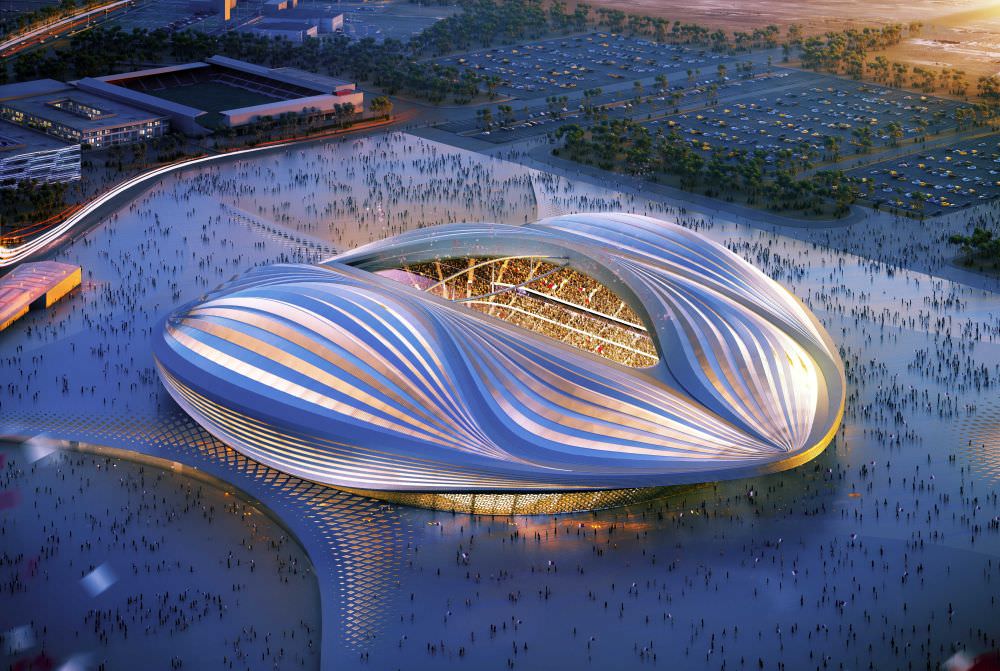 The first of several new stadiums that will host football matches during the 2022 FIFA World Cup in Qatar has been unveiled by Zaha Hadid Architects.
The stadium's shape will be inspired by the curved form of a Dhow, an Arabian fishing boat that can frequently be seen in the town harbor, according to the project director Jim Heverin. It is a 40,000-seat venue that's ideal for use in Qatar's hot summer climate.
Dancing House – Prague, Czech Republic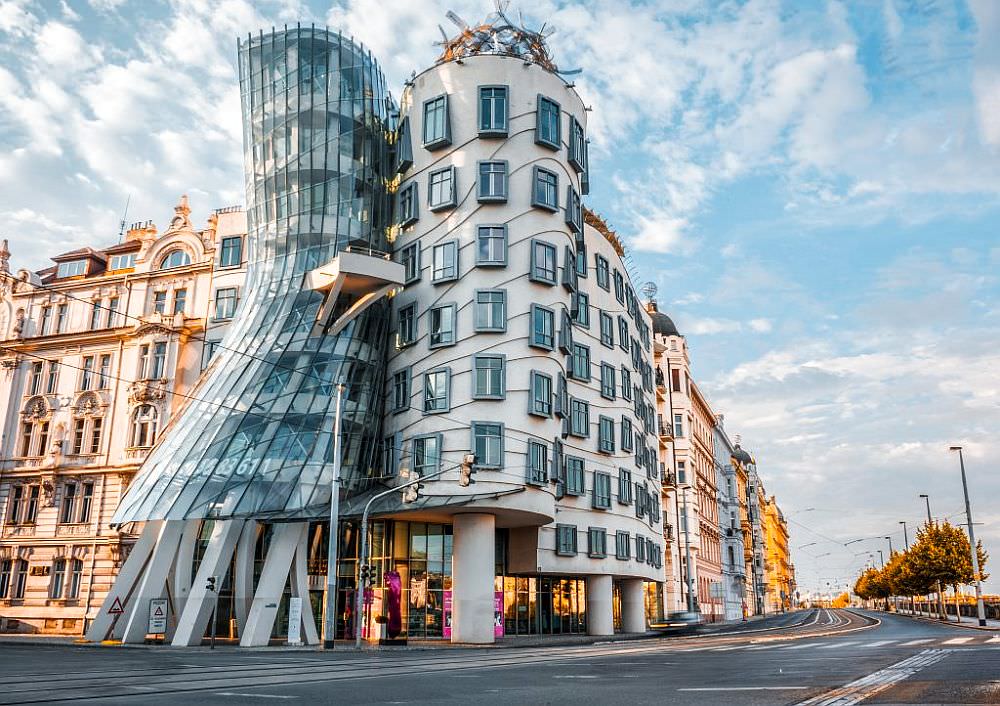 Vlado Milunic collaborated with Frank Gehry on the design of Dancing House, which was completed in 1996. Nationale-Nederlanden, a Dutch insurance firm, uses it as their headquarters.
Its deconstructivist style (or "new-baroque") was controversial at the time because it stood out so much in comparison to Prague's popular gothic, baroque, and art nouveau buildings.
Lou Ruvo Center for Brain Health – Las Vegas, United States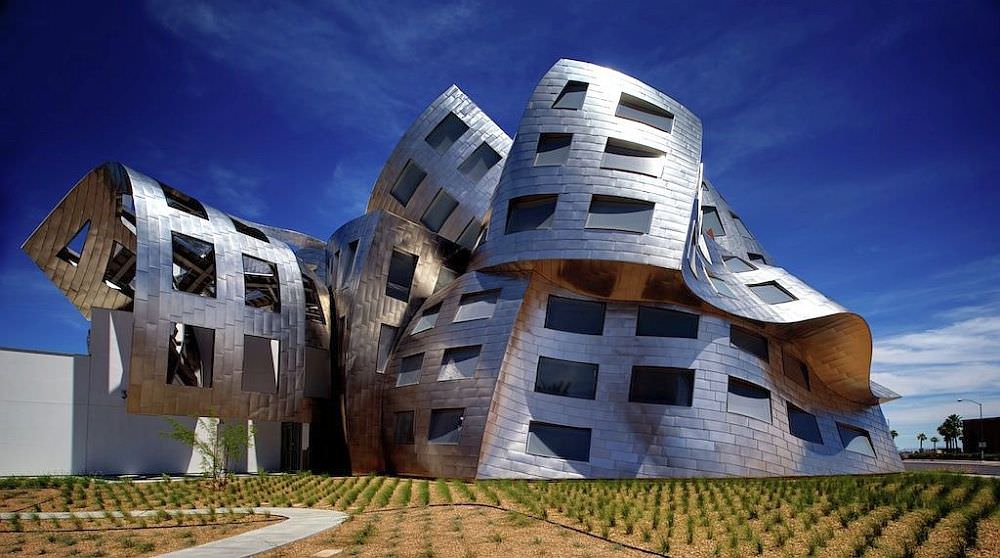 The Cleveland Clinic Lou Ruvo Center for Brain Health is the first company to open for business in Symphony Park. It is the city's 61-acre science and arts renovation initiative. The building is located at the junction of I-15 and I-95 in central Las Vegas, Nevada.
Contrived by Frank Gehry, Cleveland Clinic Lou Ruvo Center is the ideal location for achieving the organization's mission of improving mental health. Gehry uses space and materials deftly to produce beautiful designs that fascinate the imagination.
His concept for Keep Memory Alive's headquarters at the Lou Ruvo Center for Brain Health at the Cleveland Clinic is nothing short of amazing. He and his team have built an architectural marvel that combines powerful aesthetic appeal with superior patient care quality.
The Piano House – Huainan City, China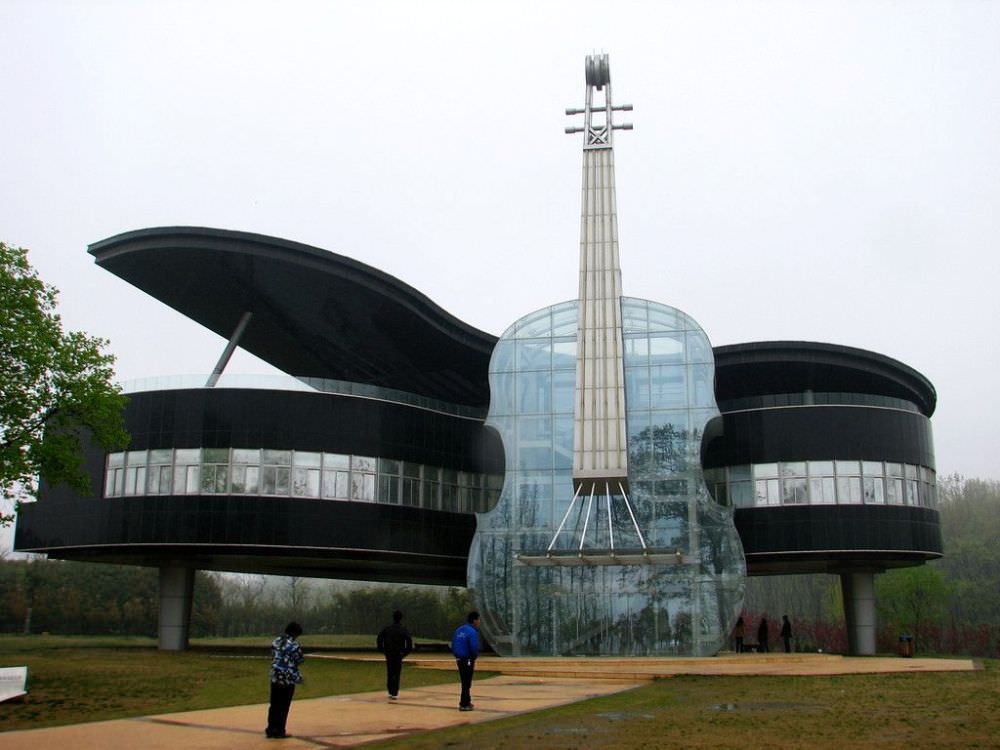 This glazed building in the shape of a violin resting against a piano was constructed in 2007 in the Shannan district of Huainan City, China.
The house, which was built by architectural students from Hefei University of Technology and constructed at a scale of 50:1, serves as a showroom for exhibiting development plans for the newly created district of Shannan in Huainan City.
The piano frame is made of black glass panels intermixed with clear and white glass to reflect piano keys and is supported by three concrete legs. A roof terrace is shaded by a canopy shaped like a piano's propped-open top.
It's dubbed "China's most romantic house" because of its distinctive architecture. Newlyweds flock to this place to have their pictures clicked in front of it.
| Also Read: EV Charging Stations – Design Challenge of the Decade
Asahi Beer Headquarters – Tokyo, Japan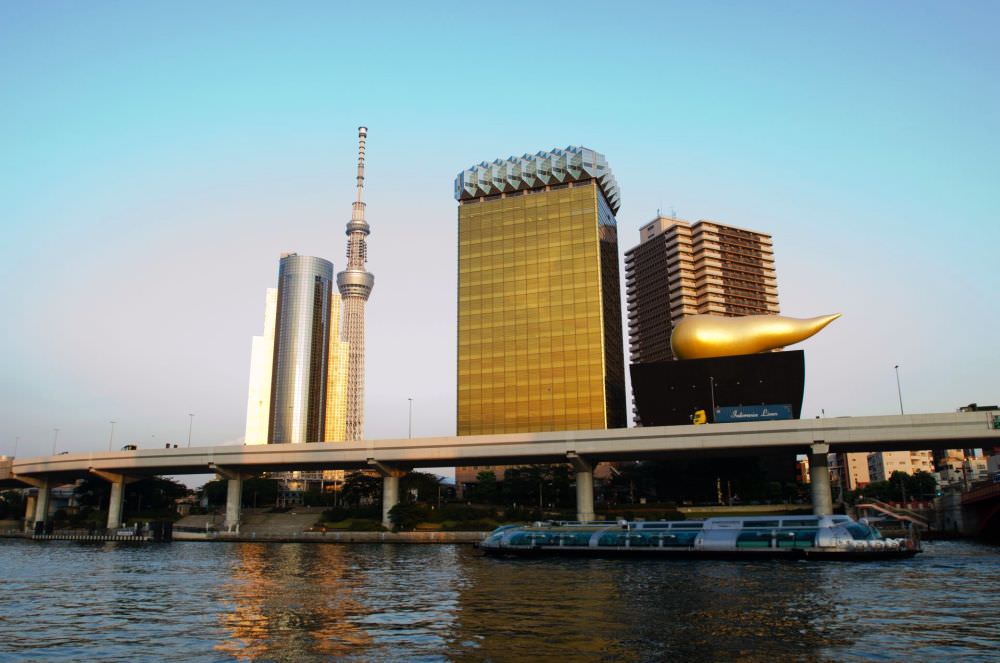 One of Tokyo's most intriguing architectural wonders is the Asahi Beer Headquarters. It consists of two major structures, the largest of which stands 100-meters tall and resembles a big beer mug with a foam-like white roof. The Super Dry Hall – a smaller building adjacent to the latter, is in the form of a beer glass with a gigantic golden flame-shaped artifact perched on top.
The golden flame model was built by Philippe Stark – a renowned French industrial designer, and is known as the "Flamme d'Or," which translates to "golden flame," but it is also known as the "Golden Turd" or "Poo Building." The object, which is estimated to weigh about 300 tonnes, was designed by shipbuilders using submarine-building techniques.
Amazon's HQ2 in Arlington, Virginia, United States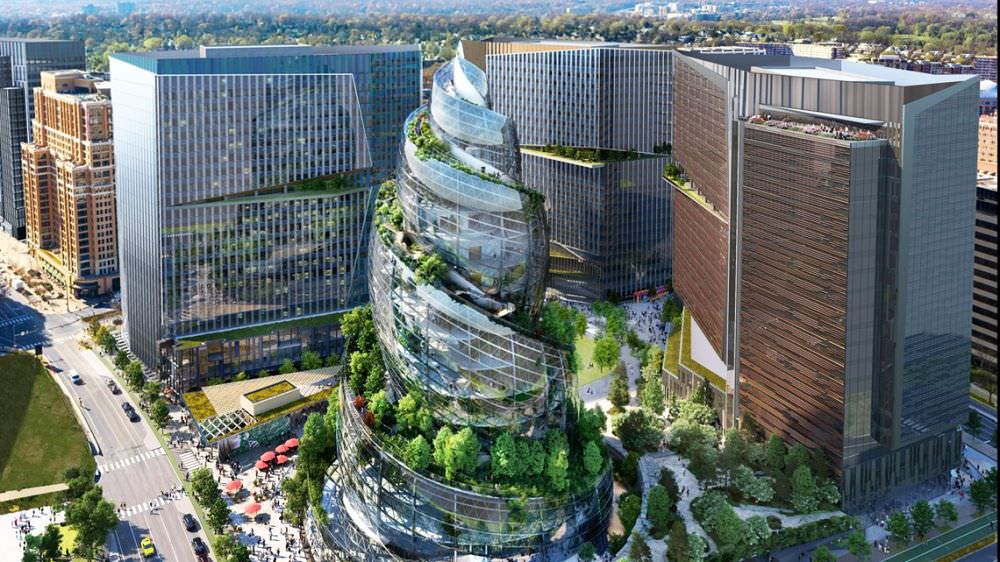 For online retailer Amazon's new headquarters in Arlington, Virginia, international architecture company NBBJ has planned a spiral-shaped glass tower with trees and walking trails.
The glass spiral tower, dubbed The Helix, is part of a cluster of three buildings known as Amazon HQ2, with 2.8 million square feet of office space and 100,000 square feet of retail space across three buildings and 2.5 acres of public space. The centerpiece of the campus will be the Helix – a glass structure with walking paths winding around the outside of the building.
Employees can enjoy walking up and down a hill wrapped in woodlands thanks to outdoor paths that will spiral up the outside of the main Amazon HQ2 site. According to NBBJ, this building has been built to create a calming environment that focuses on healthy work.