Unlike conventional plastic-based dental flosses, the new Tiofloss is a sustainable and environmentally-friendly tooth floss. The floss container is made using a plant-based mixture of bio-based content and wood fibers to avoid the need for a plastic case. And, the floss has a plant-based composition, which ensures people reduce the use of plastic materials on everyday basis.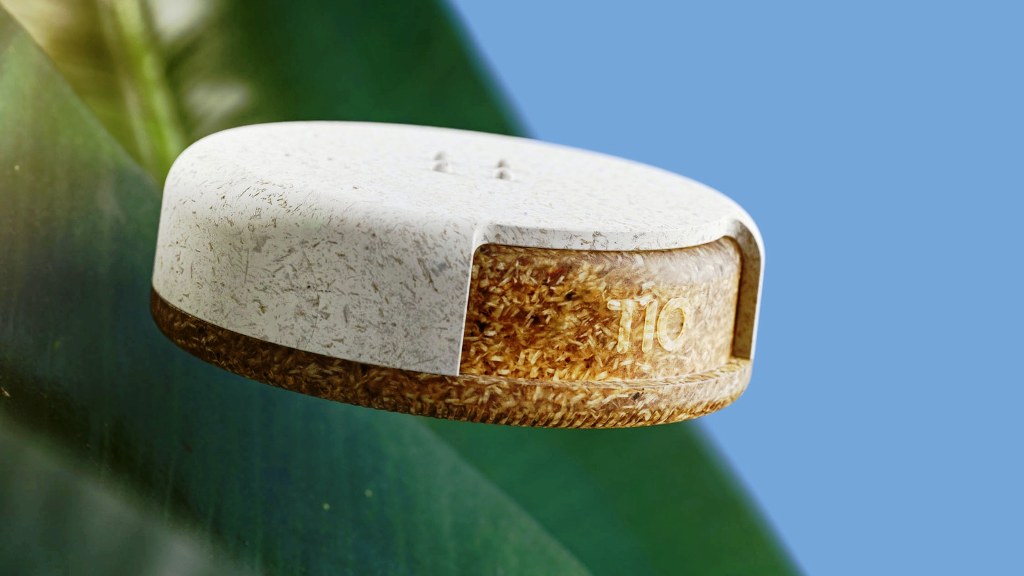 It's the perfect product for anyone who's looking for a sustainable alternative to plastic floss. The 50 cm floss is waxed with organic coconut oil and mint to remove plaque between the gumline and teeth. This vegan floss also boasts a modern design, making it more suitable for style-conscious customers.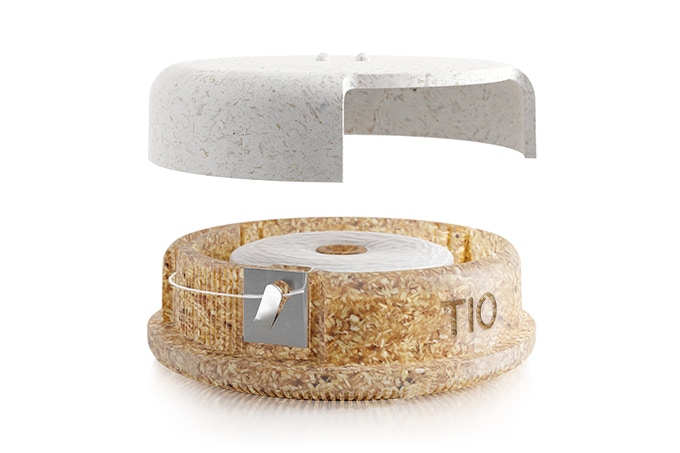 Created by Tio, a company founded by two designers, the Tiofloss is designed to attain the best possible result for both people and nature with such resource-saving design.
How to use Tiofloss dental floss?
You must know that only brushing is not enough to clean your teeth, especially in the narrowest spaces. But using dental floss, one can easily clean the interdental spaces individually and perfectly. All you need to do is grip Tiofloss between your two fingers and use it to clean spaces between your teeth.
How is Tiofloss dental floss made?
The photosynthesis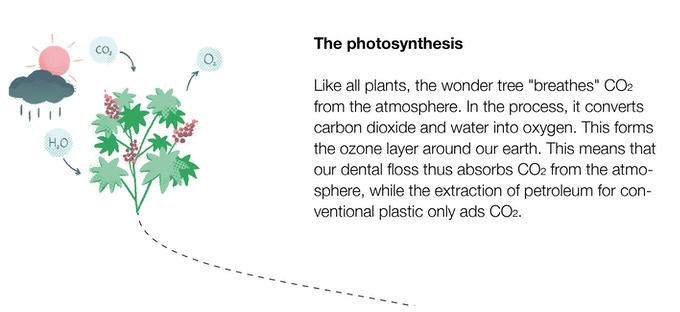 Like all plants, the wonder tree "breathes" CO2 from the atmosphere. In the process, it converts carbon dioxide and water into oxygen. This forms the ozone layer around our earth. This means that our dental floss thus absorbs CO2 from the atmosphere, while the extraction of petroleum for conventional plastic only ads CO2.
Cultivation and harvest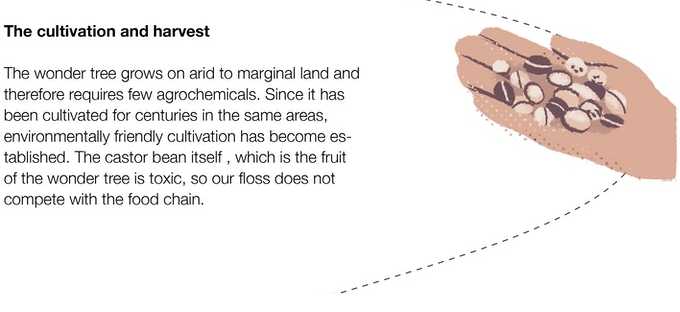 The wonder tree grows on arid to marginal land and therefore requires few agrochemicals. Since it has been cultivated for centuries in the same areas, environmentally friendly cultivation has become established. The castor bean itself, which is the fruit of the wonder tree, is toxic, so our floss does not compete with the food chain.
From seeds to oil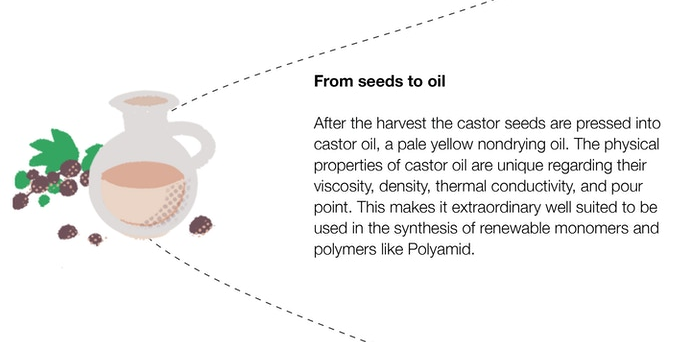 After the harvest, the castor seeds are pressed into castor oil, a pale yellow nondrying oil. The physical properties of castor oil are unique regarding their viscosity, density, thermal conductivity, and pour point. This makes it extraordinarily well suited to be used in the synthesis of renewable monomers and polymers like Polyamide.
Extraction of ricinoleic acid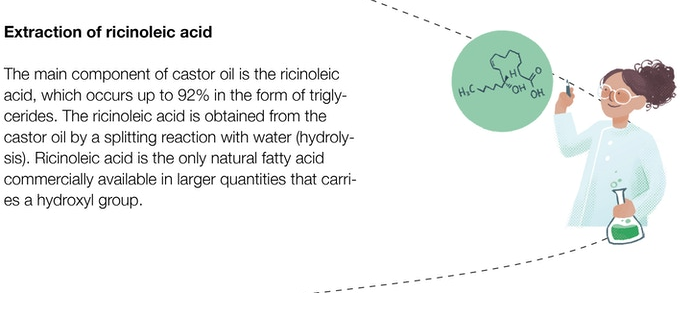 The main component of castor oil is ricinoleic acid, which occurs at up to 92% in the form of triglycerides. The ricinoleic acid is obtained from the castor oil by a splitting reaction with water (hydrolysis). Ricinoleic acid is the only natural fatty acid commercially available in larger quantities that carries a hydroxyl group.
Further processing into PA 10.10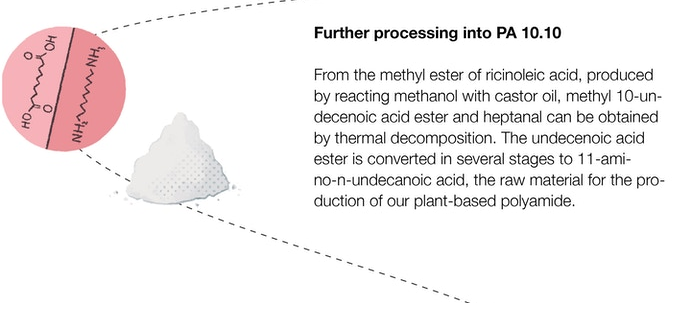 From the methyl ester of ricinoleic acid, produced by reacting methanol with castor oil, methyl 10-un-decenoic acid ester and heptanal can be obtained by thermal decomposition. Undecenoic acid esters are converted in several stages to 11-amino-n-undecanoic acid, the raw material for the production of our plant-based polyamide.
Tiofloss Yarn production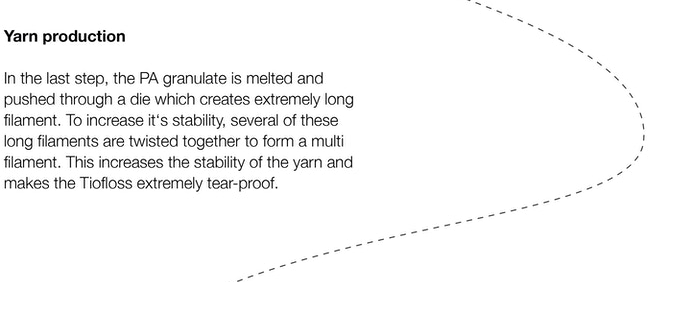 In the last step, the PA granulate is melted and pushed through a die which creates an extremely long filament. To increase its stability, several of these long filaments are twisted together to form a multi-filament. This increases the stability of the yarn and makes the Tiofloss extremely tear-proof.
Dental treatment with Tiofloss

Our floss is enriched with coconut oil, which works against caries in a natural way based on its composition and soothes the gums at the same time. To put a fresh feeling around every tooth and also supply a fresh breath, the Tiofloss is coated with natural mint. The vegetable wax coating allows them to glide smoothly
through interdental spaces.
Tiofloss is pro-earth and reduces carbon footprint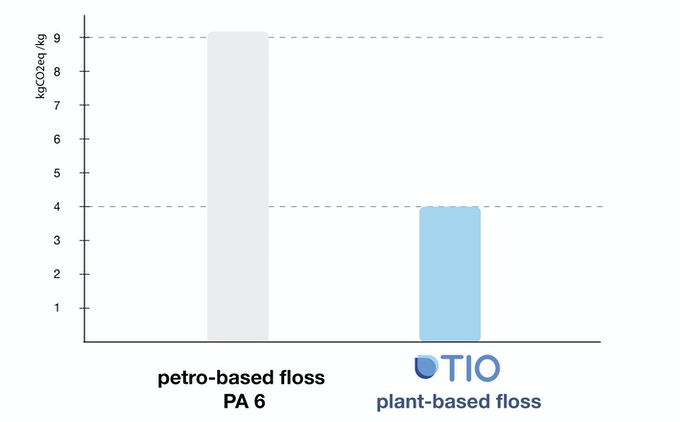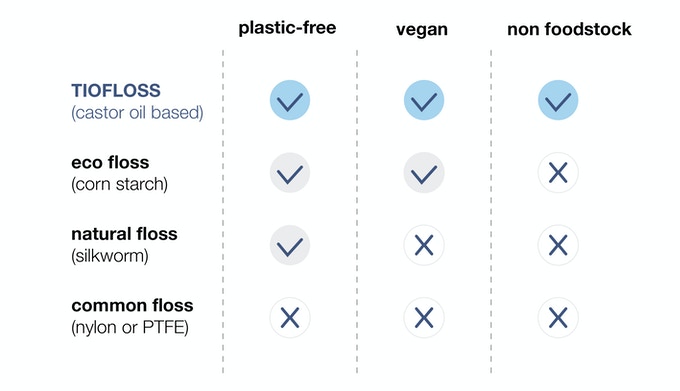 Since Tiofloss and its dispenser is made of raw plant-based materials, it reduces carbon footprint to a great extent. This particular dental floss has helped the company to minimize greenhouse gases by around 55% than ordinary petro-based materials.
With more procurement and technical improvements, the carbon footprint can be reduced from even more to only 22%.
Tiofloss price
Early bird pledges are available now on the Indiegogo crowdfunding website from $22. If the Tiofloss campaign successfully surpasses its initial pledge goal, it will reach its production phase. Worldwide shipping of the product can be estimated around August 2021.
Check out the promotional video given below to learn more about Tiofloss.