Are you a big Star Wars fanatic and filthy rich too? You may consider adding Kross Studio's new TIE Advanced x1 Watch Winder to your collection. If you're not aware, the Swiss studio launched a US $150,000 Death Star Tourbillon watch earlier this year. To ensure the watch is in good condition and being winded timely, they have now dropped this mind-blowing watch winder.
Star Wars spacecraft themed watch winder by Kross
As you can see, this fully-functional watch winder is inspired by the TIE Advanced x1 Starfighter, which is operated by Lord Darth Vader in the sci-fi movie Star Wars: A New Hope.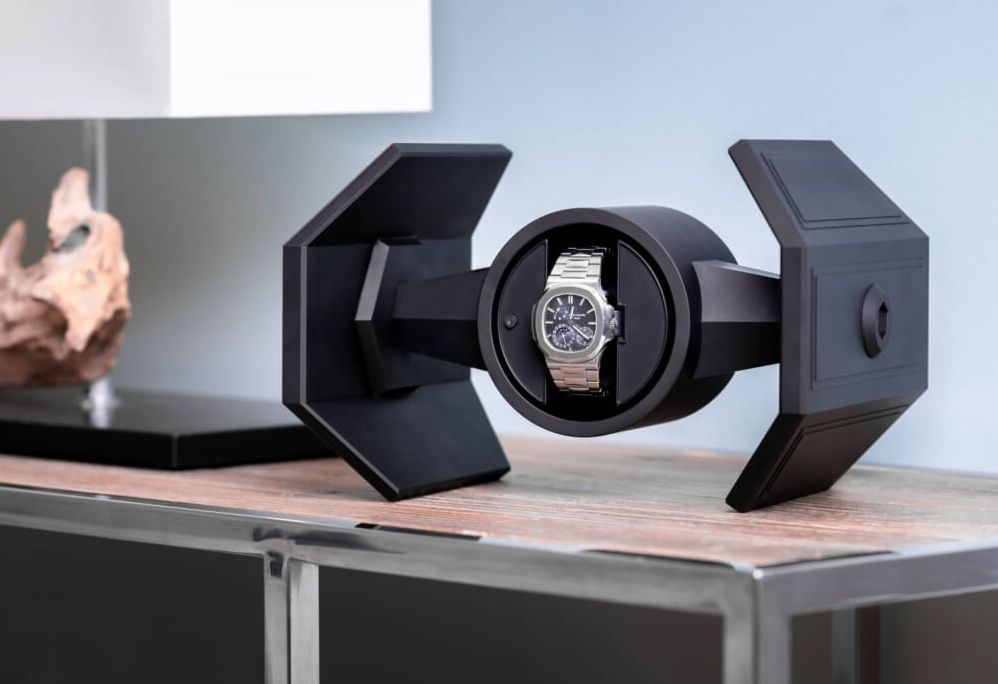 Measuring 20 × 28 x 17-centimeter and weighing 4 kg, this Star Wars-inspired watch winder is a hand-finished, machined device that's assembled in-house.
Made using solid black anodized aluminum, this art object is the perfect epitome of the studio's fine design and manufacturing legacy.
Anodized aluminum watch winder
The TIE Advanced x 1 watch winder uses its powerful movements to harness energy. This is how it maintains the mechanism of the automatic mechanical watch kept inside its winding capsule.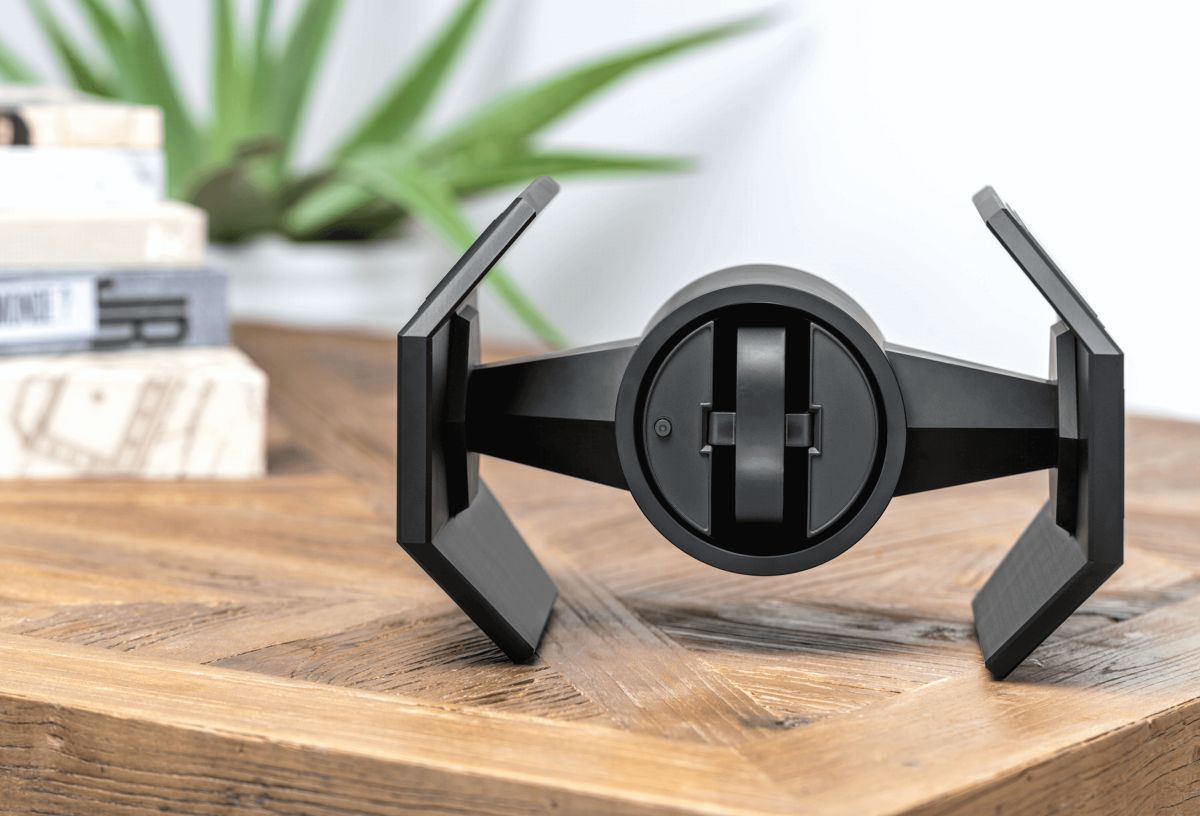 Furthermore, this advanced watch winder comes integrated with an infrared sensor for detecting the watch's presence. Thereby, it activates this winder to maintain the functioning of the watch. When the watch is not present, this device stays in standby mode to conserve energy.
Its battery life can last more than two years. Plus, it comes with a Galactic Empire-influenced key for replacing the batteries.
Connected Start Wars collectible by Kross
Kross watch winder has a Bluetooth interface that lets the owner access all its parameters via a smartphone app. This app can be downloaded via both the App Store and Google Play.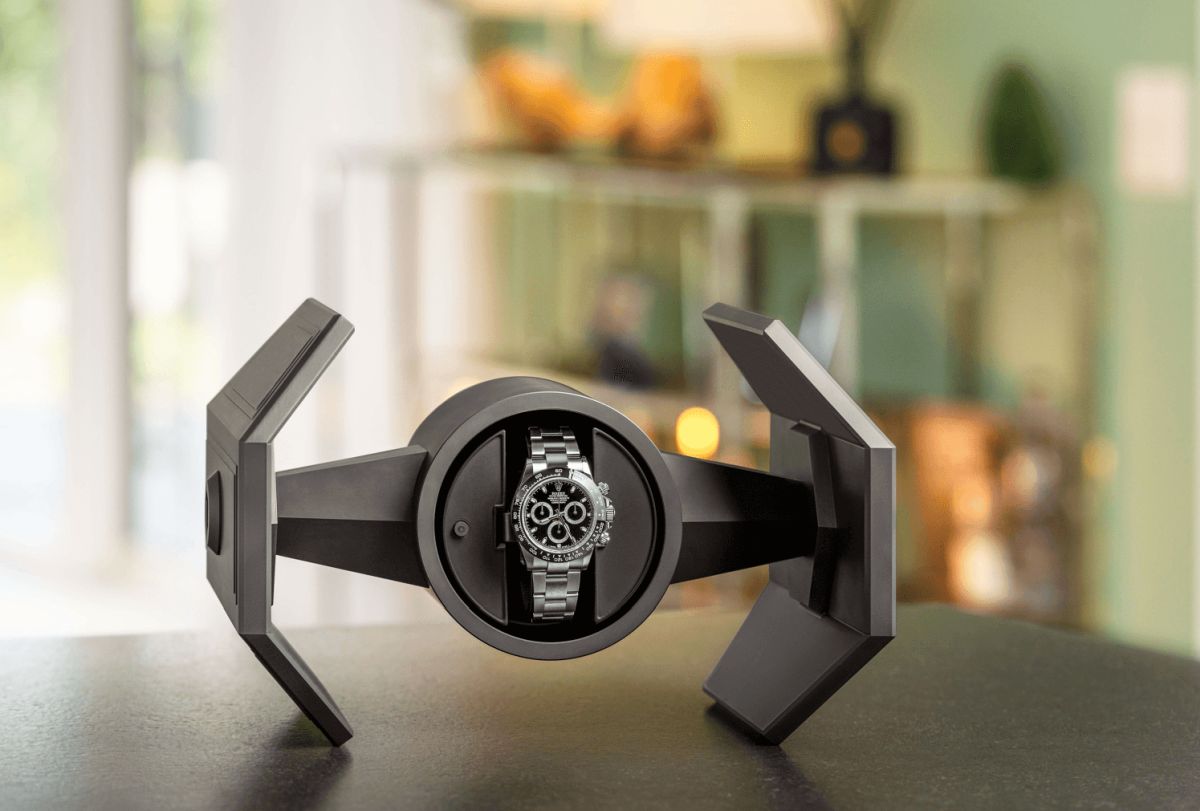 Using the smartphone app, the user can set optimal settings for this automatic watch. For instance, you can fine-tune the rotation time, direction of rotation, and load control of the watch.
Kross watch winder price
This Star Wars-inspired watch winder costs US $2,500. It is simply a drop in the bucket for someone who recently bought the Death Star Tourbillon watch for $150,000 on a watch.
Would you like to spend 150k dollars on a watch winder? Or do you feel the watch winder must come free with the already expensive watch?