Shiftall, a subsidiary of Panasonic Corporation, has unveiled MeganeX – the world's first 5.2K HDR VR glasses, at CES 2022. The new glasses are ultra-lightweight and the headset even supports 6 DoF (degrees-of-freedom) head position detection. Plus, you get several SteamVR applications in this one single device.
The compact and ultra-lightweight design of the Shiftall MeganeX VR glasses is due to Kopin's all-plastic pancake elements lenses. Kopin website quote them as lenses with
better image quality, much smaller size, lighter weight and lower cost than anything previously available.
Shiftall's MeganeX VR glasses features
This gadget has a small form factor due to its only 1-3-inch displays and all-plastic slim Pancake optics from Kopin Corporation. So, these glasses are quite comfortable to wear, even for extended periods. The glasses have a foldable frame with built-in speakers for utmost entertainment. They even offer diopter adjustments and interpupillary distance (IPD). It means you can use them easily without corrective lenses. Furthermore, it incorporates lightning 2.6K x 2.6K resolution micro OLED displays on-chip (DoC).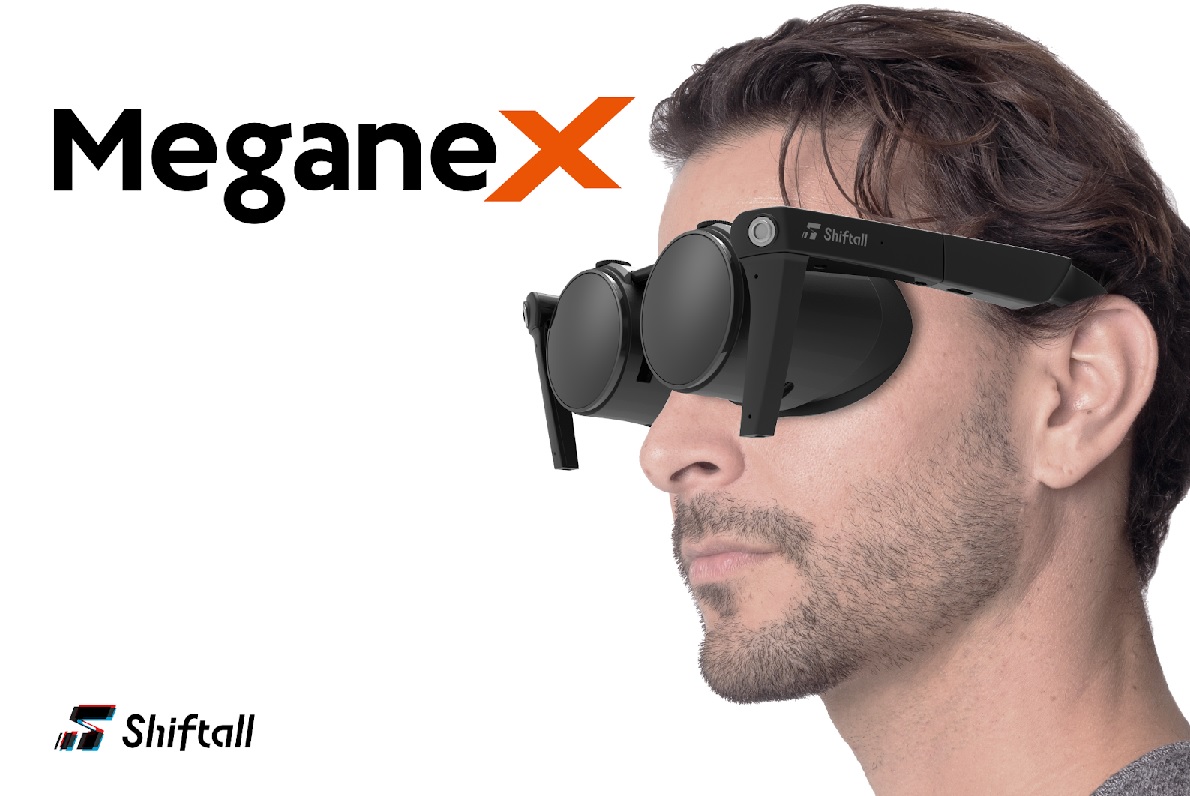 Since the 2.6K x 2.6K OLED DoC is created with Kopin's patented backplane architecture, the device needs less power and delivers more frame rates of up to 120 Hz and around 10 bits of color. Thanks to Kopin's all-plastic Pancake optics (called P95), the system offers you a large field of view (FoV). It's almost equivalent to > 200 inches when seen from a 3-meter distance, as per the company.
The device further includes sRGB color space for 100% coverage. At the same time, it offers a very high current efficiency and brightness of over 1000 cd/m2. And, the contrast ratio is more than 10,000: 1. It means that you get a complete "studio quality" HDR VR experience with this new device.
What's good in MeganeX VR glasses?
Display: 1.3 inch  5.2K (2,560 × 2,560 per eye OLED microdisplay), 10bit HDR with refresh rate of 120Hz
Compact design
Ultra-lightweight: about 250 grams (Meta's Oculus Quest 2 weights double than this)
Processor: Snapdragon XR1 platform
6 DoF (Degree of freedom) for tracking all 6 (the XYZ and Rolling, Pitching and Yawing axis) and experiencing the full immersive VR.
Connection: DisplayPort Alternate Mode on USB-C or DisplayPort + USB2.0 – Connect with the interface conversion box (included in package)
Estimated Price: Less than $900
What's not?
Polarization-based Kopin's plastic element pancake lens may result in lower optical efficiency b

ecause there are multiple elements through which light has to pass through.

High cost.
Shiftall MeganeX price and availability
The MeganeX VR glasses is expected to be launched before July 2022. Shiftall has not revealed the price yet, but it is expected to be around $900.