COVID-19 is mainly transmitted from one person to another via respiratory droplets. When you sneeze, cough, speak, yell, or sing, respiratory droplets enter the air. People who are close to you can breathe in these droplets, or they may land in their mouths or noses, infecting them as well.
Masks are an easy way to keep these respiratory droplets from getting in contact with others. When worn over the mouth and nose, studies show that masks minimize the droplets from spreading.
However, the problem with regular face masks is that they muffle your voice while talking, as well as hide half your face during conversation. Therefore, clear face masks are being introduced to facilitate better communication with hearing-impaired people.
Why everyone should be wearing clear face masks?
Clear or transparent masks resemble a fabric face mask, however, they boast a clear panel over your mouth that allows people to visualize your facial expressions, as well as read your lips more easily when you talk. It also makes it possible for hearing-impaired people to read your lips without having to remove your mask.
The clear masks are even suitable for use as surgical masks and N95 masks. As COVID-19 is transmitted primarily by respiratory droplets, therefore, all face masks, including transparent ones, can offer an extra layer of security by preventing airborne droplets from entering the respiratory system. These also fit comfortably around the face, leaving no gaps or openings for any airborne particles to enter through.
If you think you'd profit from it or want to show off the smile you've been masking for months, there are companies selling face masks with transparent panels.
Here are the eight best clear face masks for unhindered communication in the COVID-19 world.
Civility Mask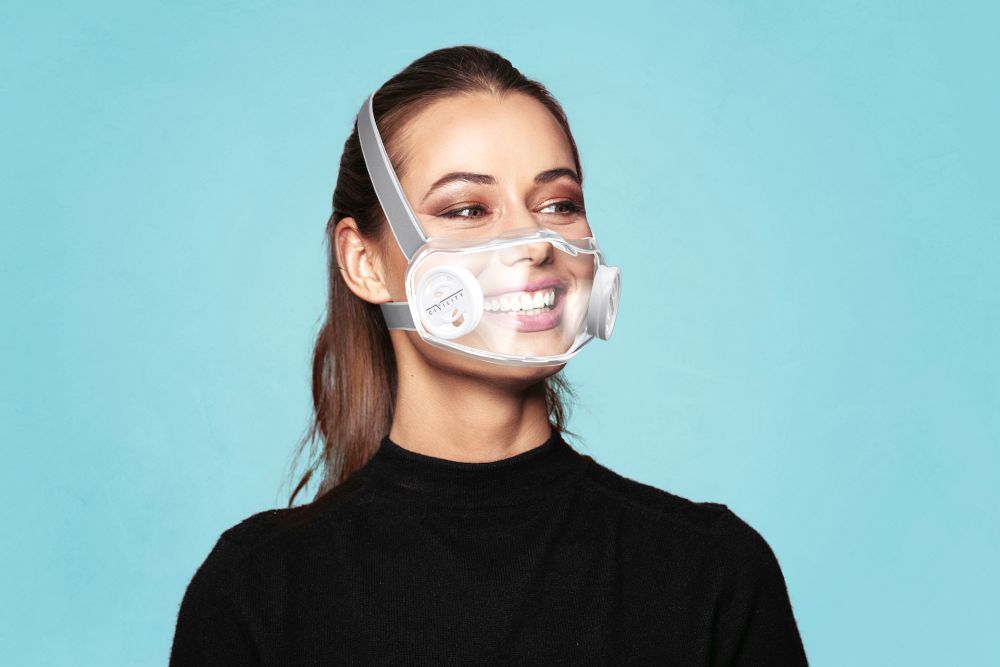 Buy: €35 ($54)
Civility, a France-based company, is working to break down contact barriers by developing a transparent mask that makes lower face features accessible to others. The Civility mask is designed to be comfortable, filtered, and airtight, with high standards of protection checked by the French Defense Ministry (DGA).
A clear glass window is combined with adjustable straps to ensure a secure fit for any face shape. The wearer is protected from breathing in/out unfiltered air by a soft, comfortable thermoplastic elastomer (TPE) seal that does not break even when the wearer is talking. The mask meets the EN1827 standard for safety.
Leaf face mask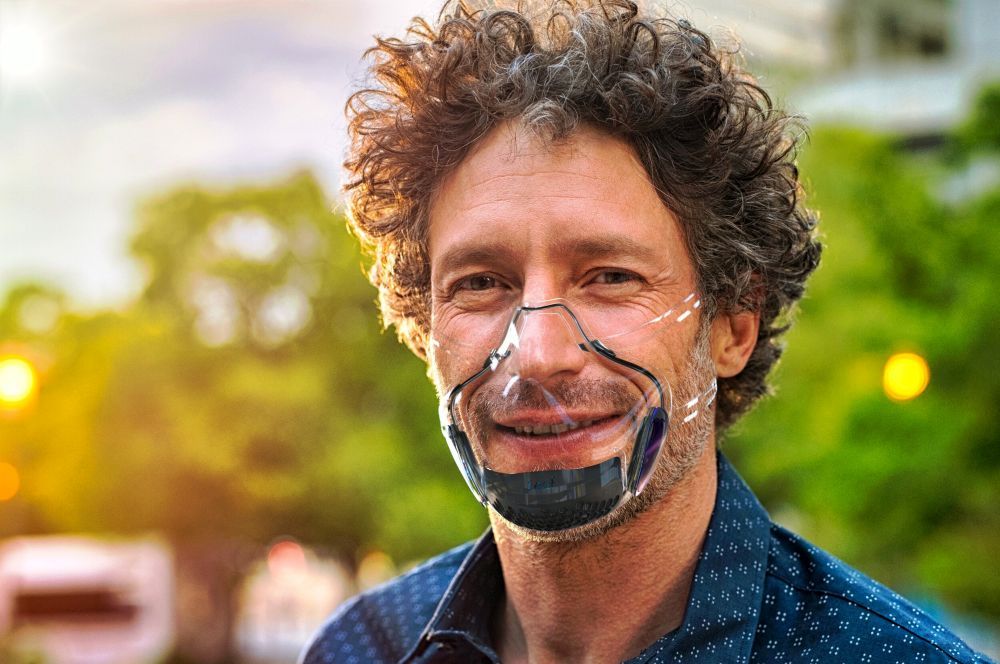 Buy: $59
With its FDA-registered, transparent mask, Leaf mask hopes to reclaim our expressive identities. There are three versions to choose from, each with an N99+ HEPA filter: Leaf Hepa, Leaf UV, and Leaf Pro.
The Leaf team mentioned that they built Leaf to be transparent, so we could be our usual selves even in these abnormal times. The masks are filled with features that make them both powerful and user-friendly, thanks to Redcliffe Medical Devices in Michigan. The special features involve a protective antifog coating on the inside of the mask, which makes it self-cleaning and ensures that your smile is still clear.
Two of the versions, the Leaf UV and Leaf Pro, have a UV-C light built into the filter housing, which kills pathogens at the DNA stage. This extends the life of the HEPA filter to up to a month. They include a permanent anti-microbial and hydrophobic coating on the outside that has proven to destroy 99.99 percent of a variety of microbes in tests. They also have a carbon filter as an added layer of protection.
CLIU face mask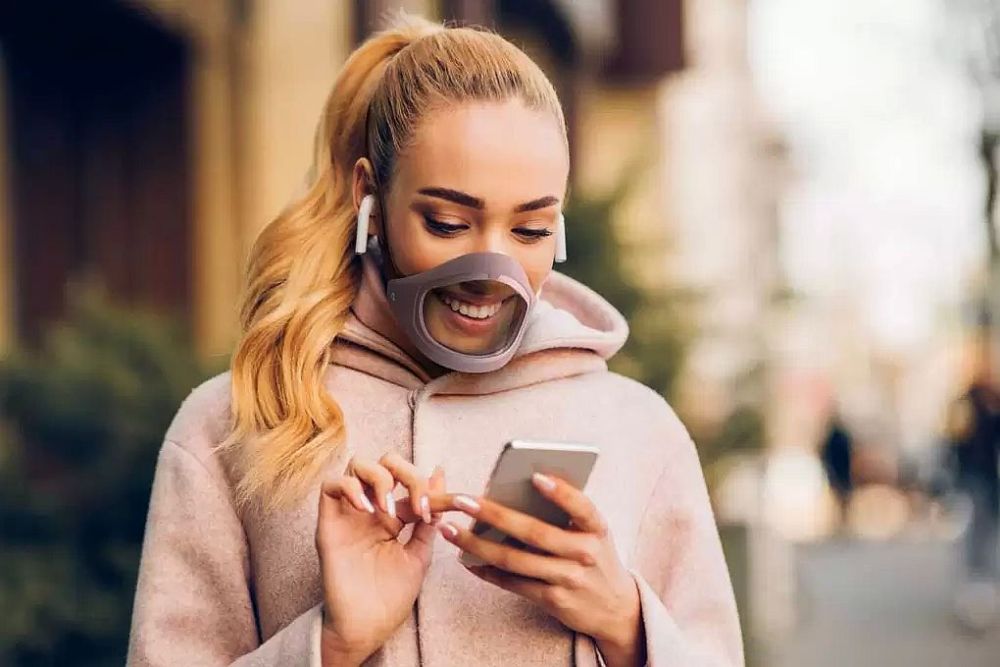 Preorder: €89 ($137)
A solution has been devised by a group of engineers and creative professionals in Milan, Italy. CLIU is a face mask with a clear face opening that was designed with a "new kind of normalcy" in mind. Fabrizio Lipani, a member of the CLIU team, discusses how the lockdown inspired the entire team to create the safest, most advanced, and most beautiful mask ever. The first reason to imagine such a mask was COVID-19, but CLIU would also shield (users) from emissions. It'll always come in handy.
CLIU mask comes with a magnetic frame and antifog film system for the transparent opening. This mask connects to a smartphone app and provides a high-tech version with Bluetooth, microphone, and GPS built-in. You can use the dedicated app to review your CLIU to make sure it's working properly. You can also monitor the filter's consumption status and get real-time health information, such as heartbeats and breathing quality. The mask will be available in two versions: a simple model and a professional, high-tech model. CLIU also protects users from pollen and viruses with a system of interchangeable activated carbon filters.
Clear Mask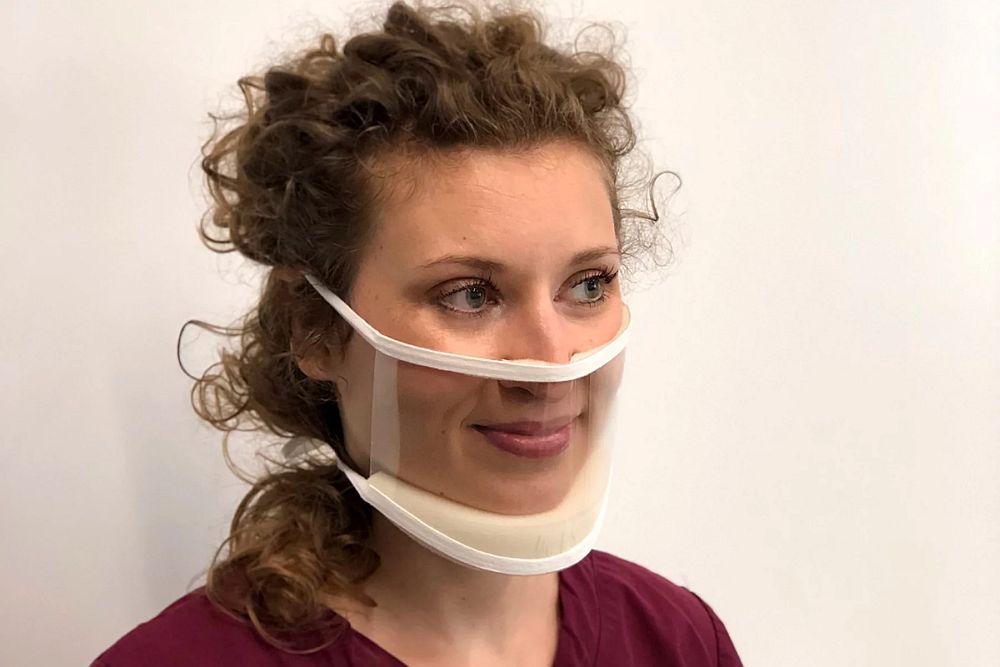 Buy: $67
ClearMask is the first FDA-approved, completely transparent surgical mask for use in hospitals, clinics, colleges, retail, hospitality, and other environments. The mask is designed for optimal visibility and comfort, and it complies with ASTM Level 3 fluid resistance and flammability specifications, providing a high level of security for medical use in environments like operating rooms.
The ClearMask helps provide security while offering much-needed relief through a welcoming smile and familiar face among terror, uncertainty, and misery during this disheartening period as the world battles the COVID-19 pandemic. The ClearMask helps improve visual contact, in addition to blocking particles or droplets with its completely transparent, antifog plastic barrier.
| Also Read: COVID-19 Fighting Face Masks at CES 2021
Ford transparent N95 face mask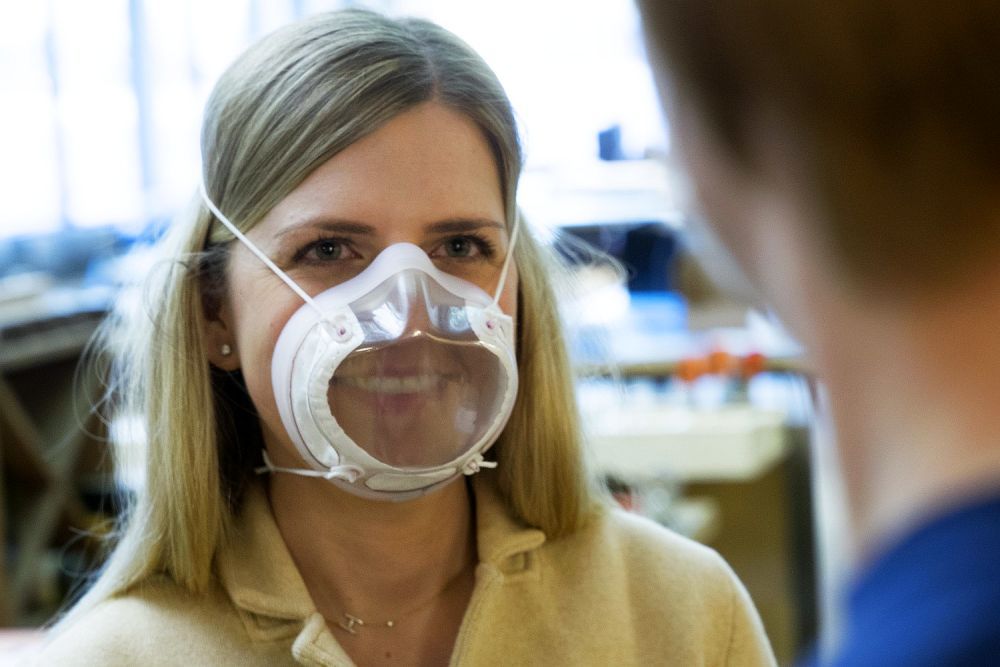 This latest see-through N95 face mask, designed by D-Ford, the company's internal "human-centered design community," has several advantages over other masks.
Due to the transparency of Ford's masks, masked people would be able to interact more effectively by seeing facial expressions, whereas people with hearing impairments could read lips to understand what is being said.
Ford hopes that by making the mask see-through, it can help hearing-impaired people during the current pandemic. It is concentrating on obtaining N95 certification for coronavirus safety. By allowing people to see the full spectrum of human emotions, this translucent, reusable, and low-cost mask allows them to interact more effectively.
Bubl reusable face mask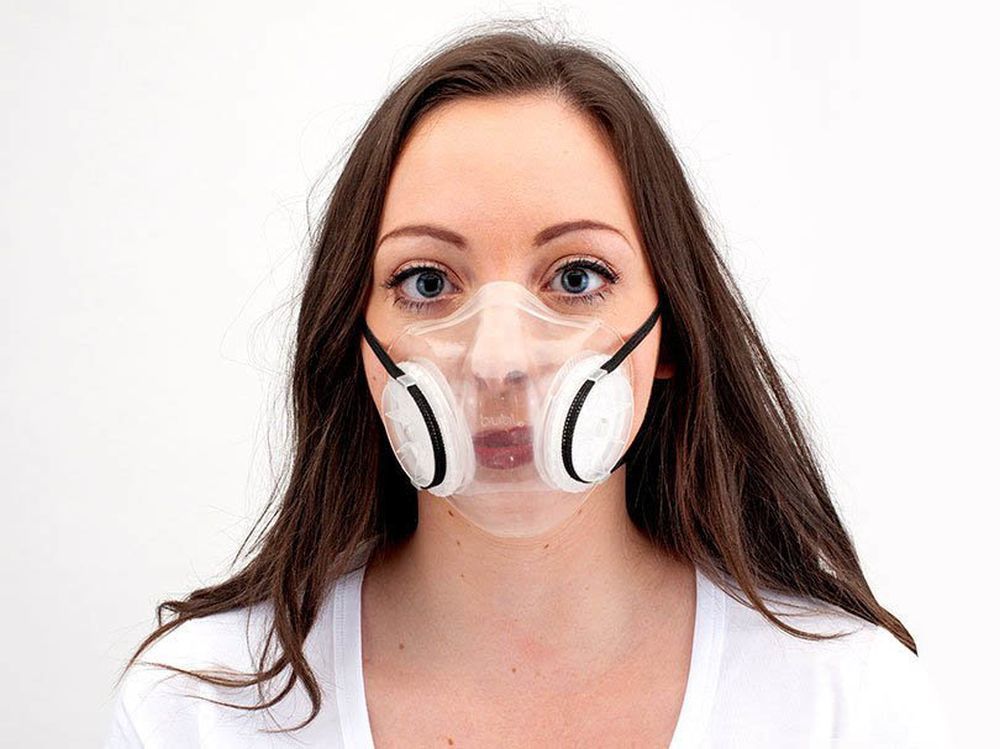 Buy: $45
The BUBL, a Denpro ergonomic mask, is created to follow the shapes of your face. It's made of a translucent polymer, which is simple to clean and intended to be a reusable mask. Dual filters on either side provide security, and although they cannot be rendered transparent, there is enough room between them for a viewer to distinguish facial movements and read lips.
The Bubl barrier face mask is supplied with 60 single-use filters; each filter must be replaced every eight hours. The company website provides additional replacement filters once you run out of them.
Social face mask prototype by Burzo Ciprian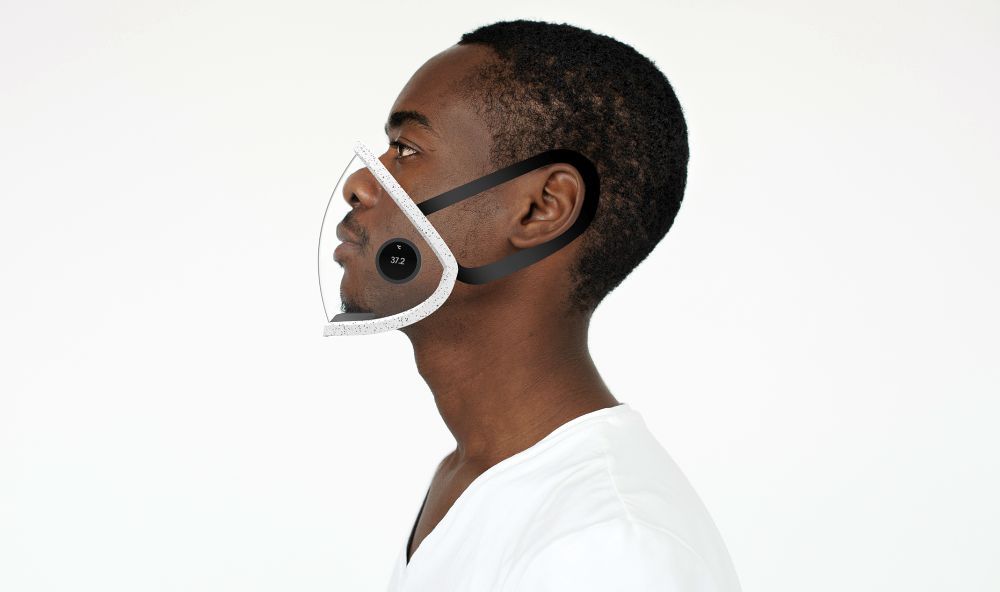 A face mask developed by a Romanian engineer and fitted with a sensor that detects COVID-19 particles in the environment has won the top prize in an MIT Media Lab competition.
The award-winning concept "social mask" by Burzo Ciprian is a minimalist, transparent mask with a biosensor that can connect to a smartphone. Users will be able to monitor the number of airborne pathogens in their environment using an app, collecting data that also maps other users nearby and measures the risk of infection with the COVID-19.
The concept, that is still in the prototype stage, won a competition hosted by MIT's pandemic response lab, which challenged engineers and designers to come up with innovative solutions to reimagine face masks and personal protective equipment (PPE).
Connecting the mask to smartphones is a viable future choice. It enables the user to see who is infected in their neighborhood and receive notifications on their smartphones about what the biosensor has found based on nearby particles. These are a couple of features that would most certainly appear in the future mask.
Special mention

– Razer Project Hazel face mask concept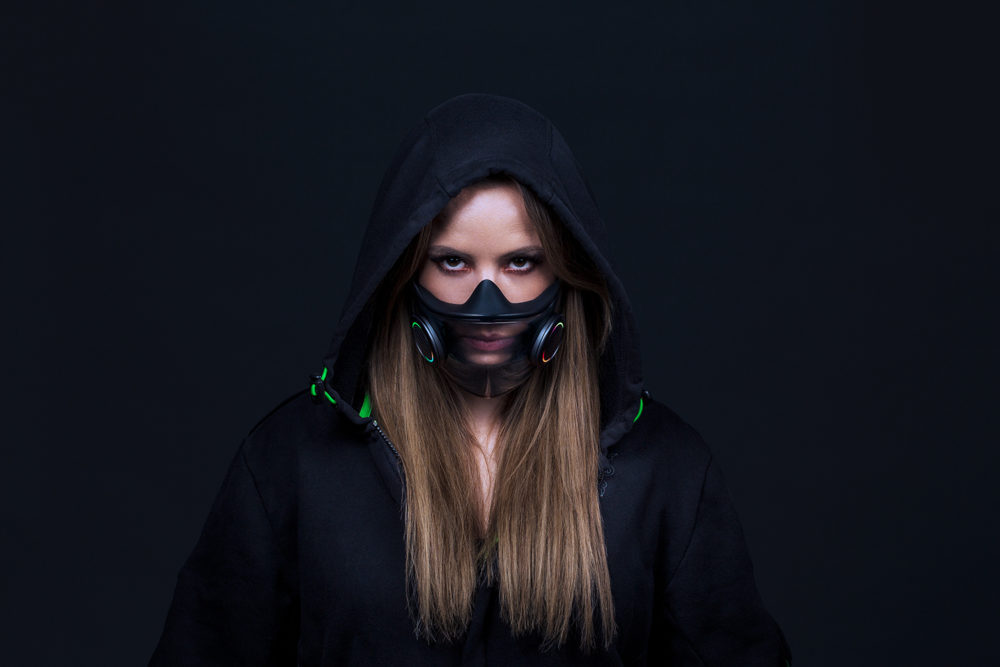 Razer claimed to have created the world's smartest mask, the Project Hazel reusable N95 respirator. It's a project design with a translucent outer shell made of scratch-resistant and waterproof recycled materials, allowing users to read lips and see facial expressions when talking to others.
Project Hazel is defined by Razer as a medical N95, which has yet to receive permissions and certifications by the Food and Drug Administration, the Occupational Safety and Health Administration, and the Centers for Disease Control and Prevention. There's no word on cost or a launch date yet.
According to Razer, active disc-type ventilators will be used in Project Hazel to filter the air that is breathed in, as well as the carbon dioxide that is exhaled. It will also be approved to filter 95-percent of particles in the air, including the COVID-19 virus and other common pathogens.
Are these trendy COVID-19 accessories really safe?
Yes, these trendy COVID-19 clear face masks are fully risk-free. These clear masks are designed for use in healthcare environments such as dentistry, operating rooms, and veterinary procedures. It also benefits professionals who work with disabled individuals and children, who need visual communication and emotional growth. However, the breathability and effectiveness in crowded environments may be a problem, not to mention the fact that it isn't the chicest piece of casual wear.