Facebook has teamed up with EssilorLuxottica – the makers of Ray-Ban and Oakley eyeglasses – to bring its augmented reality glasses, codenamed Stella, to market over the next few years. Project Aria, a division of Facebook's science division, is currently working on augmented reality glasses.
The wearable is intended to act as a full-fledged smartphone replacement, allowing users to make and receive calls, take pictures, view data, and live stream to social media.
According to CNBC, Facebook is also working on an AI voice assistant to function as the wearable control and user input system, as well as a ring device with motion sensors for user input.
EssilorLuxottica is a global leader in the design, manufacture, and distribution of eye lenses, frames, and sunglasses. The company was formed in 2018 from the merger of the Italian Luxottica with the French Essilor.
Its mission is to help people around the world by addressing their evolving vision needs and personal style aspirations. EssilorLuxottica's licensed eyewear brands include Ray-Ban, Oakley, Michael Kors, Varilux, Crizal, Eyezen, Transitions, and LensCrafters.
Rayban x Facebook smart glasses
Facebook's relationship with EssilorLuxottica stems from a desire to make glasses interesting to the general public, also on a design level, rather than yet another unsightly device – the plans are for full diffusion.
It's also true that the news comes at a sensitive time for Facebook, which has seen a slew of celebrities protest its privacy policy and independence in disseminating information, which many believe would aid the dissemination of fake news and hate speech.

But, according to Zuckerberg, an entire team dedicated to the project can only deal with the sensitive privacy and monitoring concerns that such a system would pose.
Smart glasses for teleporting
According to CNBC, Facebook CEO Mark Zuckerberg claimed in an interview with The Information that by 2030, people would be able to "teleport" to different locations using smart glasses and replace in-person meetings with a headset-based interactive experience.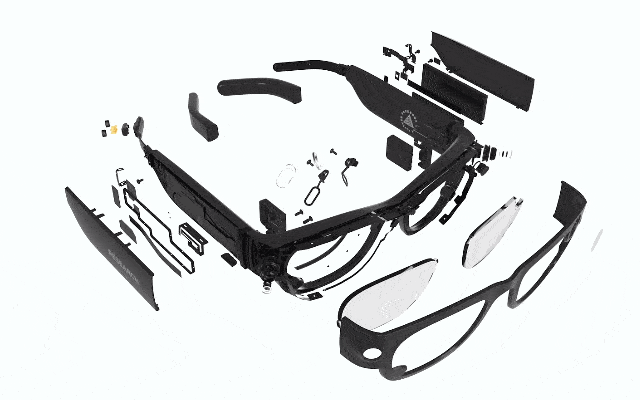 As per Zuckerberg, this may reduce the need for commuting and travel, as well as mitigate the effects of climate change.
He believes the system would have "amazing use cases," such as "…rather than calling someone or doing a video chat, you just sort of snap your fingers and teleport, and you're sitting there and they're on their couch and it feels like you're there together."
This year, Facebook plans to release smart glasses in collaboration with Ray-Ban. They can't view complex virtual objects yet, according to Zuckerberg, but the company plans to introduce more advanced, 'normal-looking glasses' in the future that can display content (alongside the real world).
Facebook's plans on AR
In recent months, Facebook has become more open about the work of Reality Labs, a community founded in 2018 to work on experimental projects such as Facebook's brain-interface project, futuristic AR glass design, and other work that could affect product creation at Oculus, the Portal videoconferencing team, and other groups.
The company published white papers and prototype concept photos of what a hybrid AR-VR system (potentially a version of Project Aria) would look like in the future earlier this year, and the Reality Labs division acquired neural interface startup CTRL-Labs last year.
At last year's Oculus Connect conference, Facebook launched a project called Live Maps, which the company believes would be crucial in allowing people to use AR glasses in the real world by combining the virtual and the real. As a result, AR glasses will "download the most recent data from the 3D map, and then all they have to do is detect changes — such as new street names or the appearance of a new parking garage — and refresh the 3D map with those changes."