Jakob Schmidt and Marc Fleischmann, research assistants in the Department of Textile Technologies at the Chemnitz University of Technology, have developed a new dry fiber tech that can create lightweight, sustainable, and better quality snowboards than regular boards.
The researchers have checked the quality of the splitboard's preform on the turntable of a special system. Splitboard is a snowboard that can be split into two skis.
What is the snowboard material?
The new composite snowboards are made from layered sheets of interwoven carbon and glass fibers along with the addition of resin. These sheets are further cut from a roll of material that's trimmed to the desired shape and size. This means that these snowboards can be customized easily without any hassle.
Additionally, the material of each sheet has uniform consistency throughout the surface. While this is quite favorable in some situations, it also leads to a challenge when trying to make changes to the attributes of the finished composite. This is because manufacturers may like to make the board flexible in certain areas and more firm or stiff in others.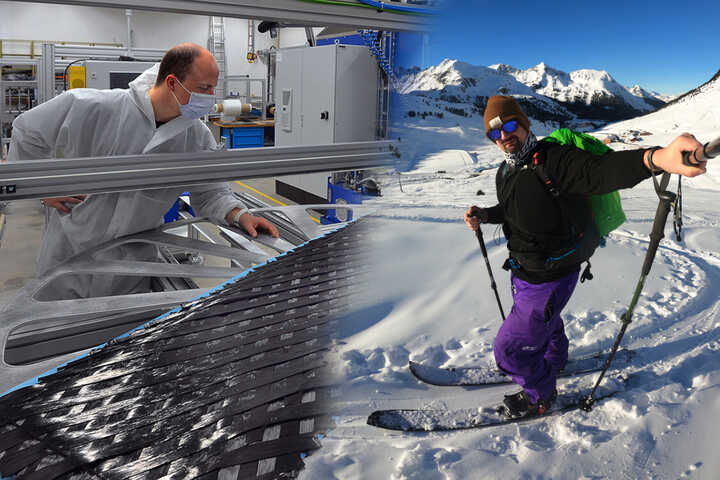 Lightweight, durable, and eco-friendly snowboards
Due to their flexible and carbon fiber material, the snowboards are extremely lightweight yet durable. The prototype 1.6-meter (5.2-ft) Chemnitz splitboard can be split horizontally into a pair of touring skis to get up on the mountain and can be joined again into one snowboard for going down. Weighing just 2.6 kg (5.7 lb), this snowboard is said to be one of the lightest snowboards created in the industry.
Ray of hope for guilt-free snowboarding on the slopes
Using this snowboard made from a dry fiber placement process, the fiber waster in its production is reduced by 60-percent. It not just saves the cost, but also minimizes its carbon footprint – as the material used is totally sustainable.
Furthermore, the innovative deformable edges of this snowboard are claimed to provide better hold by digging into the snow while cornering. When lifting, it avoids catching during a maneuver that's called boardslide. This means you can enjoy guilt-free snowboarding with better performance.
With this dry fiber tech snowboard, the researchers are hoping that the use of textile fiber semi-finished products may gain acceptance in the sports equipment industry. Nonetheless, we're not sure when these snowboards will hit the market. But they are likely to revolutionize equipment manufacturing in the future.
Via: CUT