Apple is renowned for MacBooks, iPhones, and Apple Watches. But now it has also launched a tiny device called AirTag. It is basically a tracker by Apple that lets you find any of your lost items with ease. While this type of tracker is not new to the world – as Tile Bluetooth trackers are already on the market, the biggest selling point for AirTag is the company's Find My network. Using the Find My app on your iPhone, you can easily keep track of where your lost item(s) is present.
How does Apple AirTag work?

All you need to do is attach AirTag to items or slip it into a bag that you're likely to misplace while traveling or when going outdoors. So, when you can't find this item, you can simply go to Find My app on iPhone, Mac, Apple Watch, or iPad to find it. You can even ask Siri to search for the lost items. Just say, "Hey Siri, where is my wallet?" and AirTag will make a sound that lets you easily locate your item.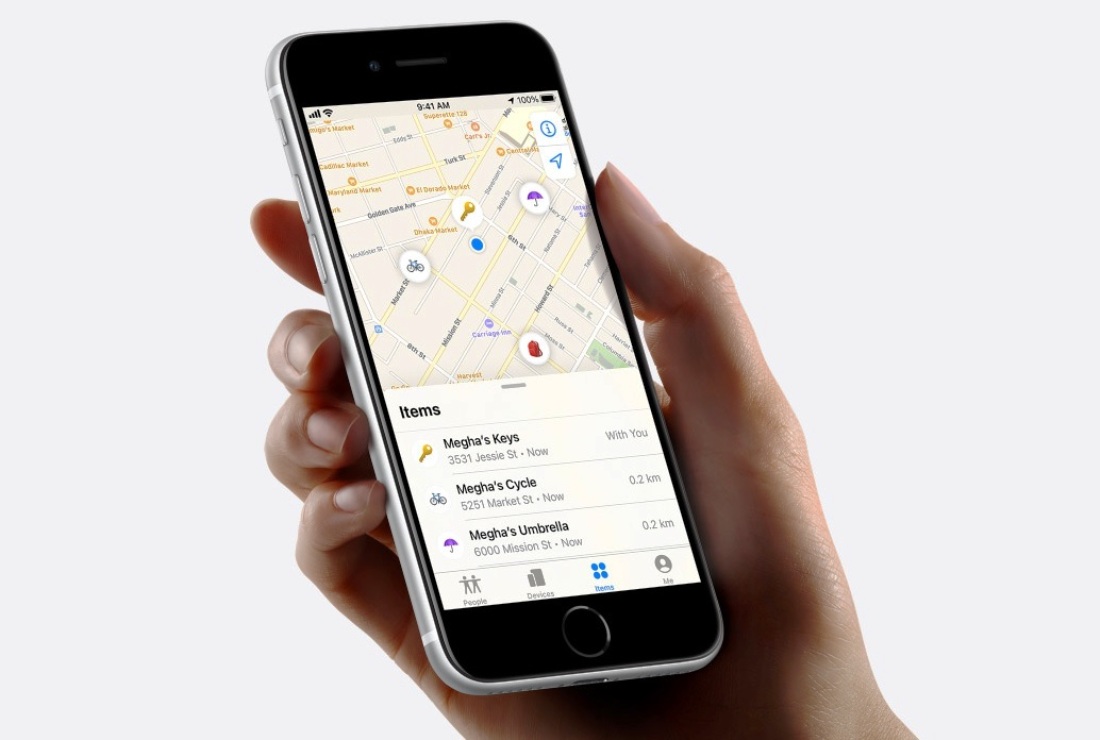 Under the hood, the AirTag sends Bluetooth signals that can be spotted by your iPhone or Apple Watch via nearby devices. The AirTag's location is relayed to the user's iCloud account, which is signed in all your Apple devices. Since the user has their location on their iCloud account, the Find My app can immediately indicate to you where your AirTag is.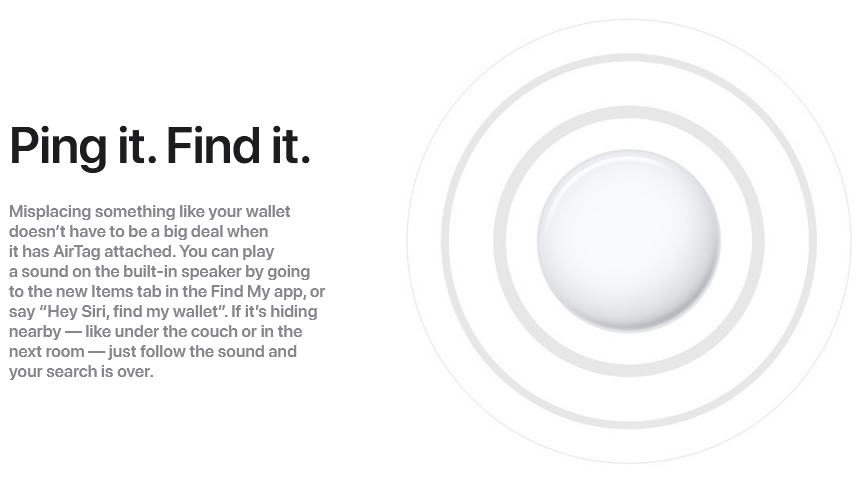 This whole process is encrypted, so others won't be able to figure out or share your location. This process utilizes low-energy Bluetooth, so there's no need to worry about data consumption or battery life on iPhone or AirTag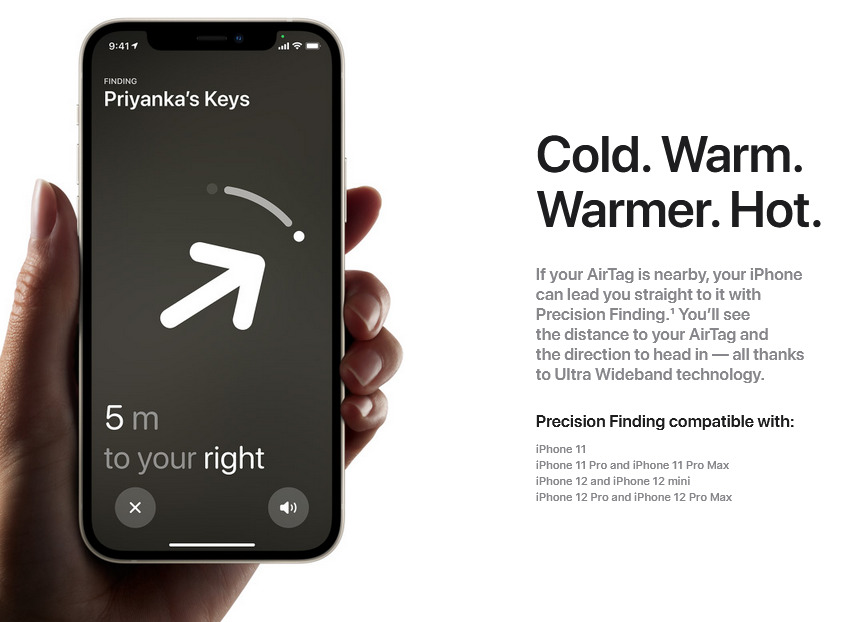 But you definitely need to pair your AirTag with your account after the purchase. After activation, your iPhone will be able to find it instantly and also enables you to link it to your account. Using this tiny Apple device, you can now easily locate your headphones, bikes, car keys, and more.
Apple AirTag design
AirTag is tiny, button-shaped device with a glossy white front and silver backing. The front part of this device can be customized with your choice of engraving. Each AirTag can be etched with any desired emoji character or up to four letters of your choice.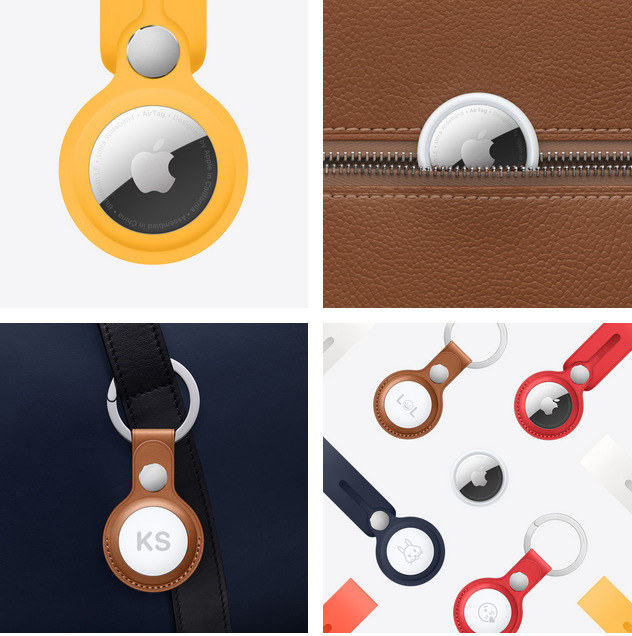 These are integrated with CR2032 batteries and require need additional accessories for attaching them to different items. It weighs only 0.39 ounces and measures 1.26-inch in diameter and 0.31-inches in height. This means that it's easy to attach them onto any small item, as well as put them into a bag.
Apple AirTag features
Apple has installed a U1 chip in each AirTag to provide precise location indoors or last known location – if outdoors. The device also has built-in speakers to play a clear sound when finding a lost AirTag in the house. You may either play this sound via the ‌Find My‌ app or ask Siri to locate a lost AirTag with sound.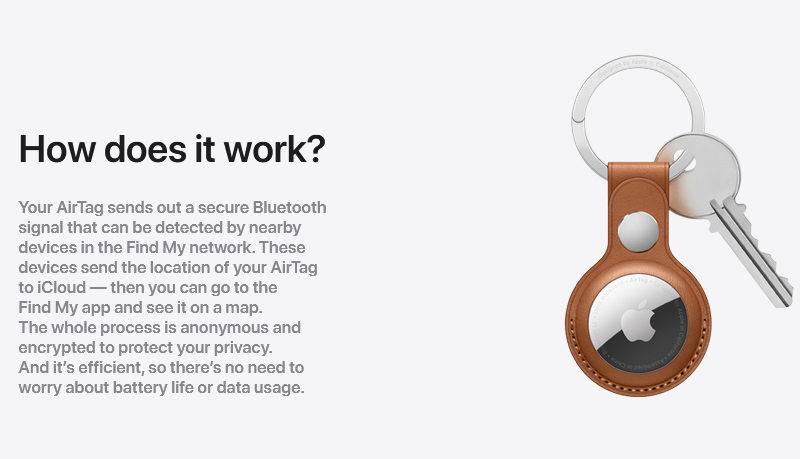 Even if an AirTag is stolen or lost, the ‌Find My‌ network also helps you locate it by showing on a map where your device is located by someone else's device. When in Lost Mode, an AirTag can automatically send you a notification alter when it is detected by someone if Find My network.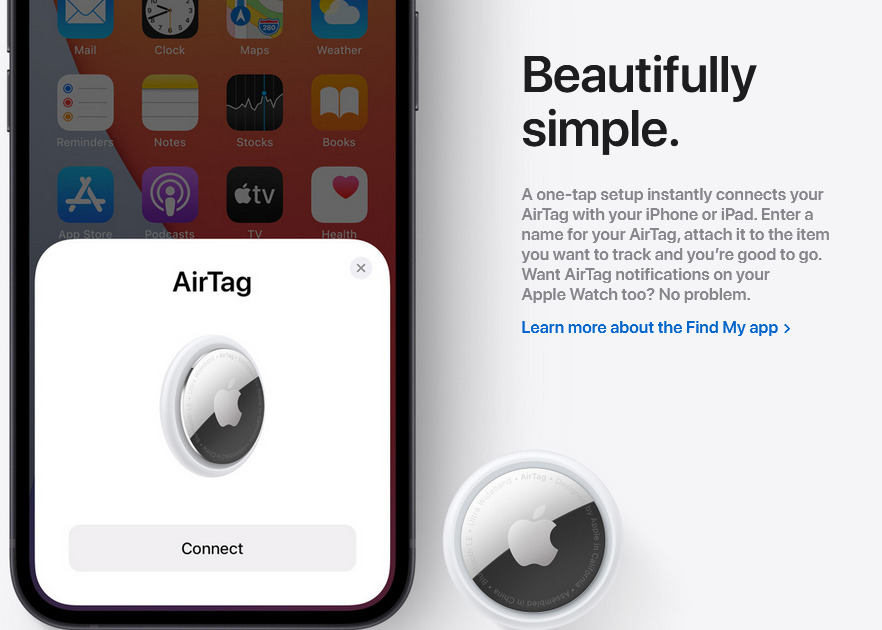 If you or someone else comes across a lost AirTag, it can be scanned with any iOS or Android smartphone that's integrated with NFC to help them figure out the owner's contact information.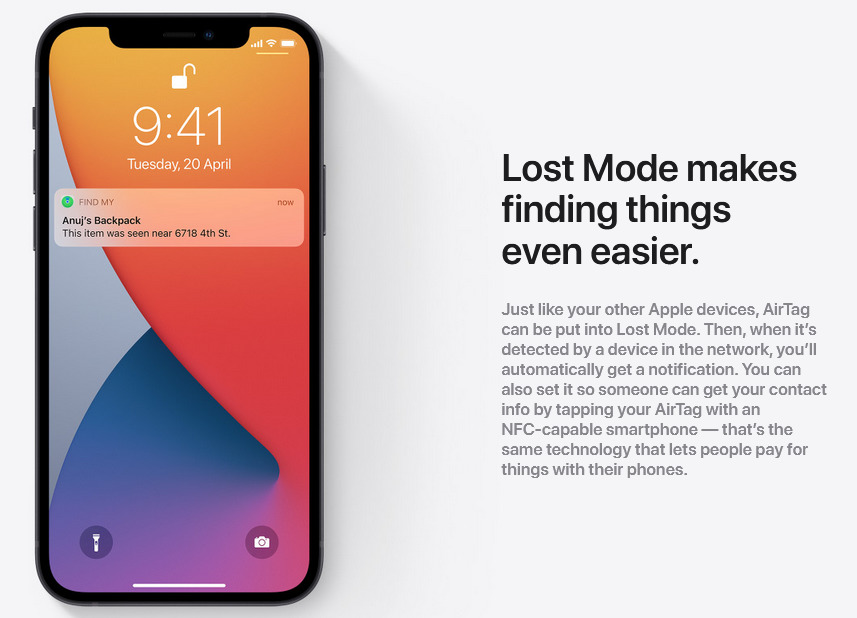 AirTag is Mercury, BFR, PVC, Beryllium free and tin used to solder the components in the logic board of AirTag is 100% recycled.
AirTag charging
There is no need to charge an AirTag, as it has been designed to work efficiently with user-replaceable CR2032 batteries.
AirTag water resistance
AirTag comes with IP67 water and dust resistance rating. This means that it can easily withstand water immersion up to one meter for 30 minutes. So, it can hold water exposure from accidental spills or rain.
AirTag privacy and security
Each AirTag has been linked to the user's Apple ID, so others won't be able to track it. The location history and data are not stored on this device and the location data is completely encrypted, preventing it from hacking. Even when you see where a lost AirTag is located or someone else has picked it, you won't be able to know the identity of that person.
AirTag feature innovatives Bluetooth identifiers, which frequently rotate while ensuring you are not tracked on every location. There are also built-in security restrictions to prevent an AirTag to be used for secretive and unwanted tracking reasons.
If someone else's AirTag is in your bag or car, your iPhone will send an alert to you about the presence of AirTag around you. This means that it will prevent others from tracking you.
Apple AirTag price & release date
A single AirTag has been priced at $29, whereas the complete package of four AirTags will cost you $99. You can purchase AirTag directly from Apple and the price won't include any accessories required for attaching it to an item. The company will launch AirTag the following week on Friday, April 30.